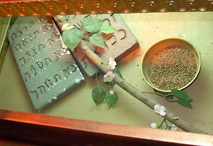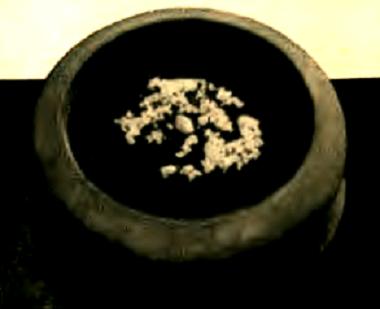 Angola Manna 1939

Manna Falls
IN AFRICA!
Remarkable Story of 'Divine Providence in Angola.,'
E. L. CARDEY
Superintendent "Voice of Prophecy," Radio Bible Correspondence School, CapeTown, South Africa
WE who are called upon to travel in heathen countries are often impressed by the simplicity of faith exercised by those who have only recently learned of the Christian way. In more civilized lands, where the church has been established for ages, people have become so sophisticated that they find it difficult to believe and accept the wonderful promises Jesus made to those who would call upon His name, in faith believing.
Yet the promises remain. He declared:
"If ye abide in Me, and My words abide in you, ye shall ask. what ye will, and it shall be done unto you." John 5:7. Again, He said: "Ask, and ye shall receive." John 16:24. Of course, all the promises of God are based upon conditions; yet when we have met these conditions, in our simplicity of faith we can look up to Him and believe that He will answer Our prayers and supply our needs.
We have had a wonderful demonstration of this in the Dark Continent. One of our missionaries, who spent nearly a lifetime in Africa, established a mission in central Angola more than twenty years ago. The mission grew until some hundreds of converts had moved on the mission property, thus making it a Christian community. This often happens in Africa, and one can see the striking difference between Christian and heathen villages.
The white missionary left this mission, and for some years it was under the care of a native director. One year the rains failed to come, and the crops did not grow. The mission was far removed from stores, and there was little money to buy food if it could have been found.
The mission director was away on a trip visiting distant mission schools, and had
been away for some weeks. The believers on the central mission came to the end of their resources and food supply.
The native director's wife called the families together and told them the situation. Then she read to the people the promises of the Lord and told them of the manna which had been sent by God to His people in the time of Moses, assuring them that God could send them food in the same way, if necessary. After prayer, her little girl, about five years of age, went out of the house and in a short time came back with her hands filled with white stuff, which she was eating.
"What are you eating?" asked the mother.
The little one replied: "Out there I saw six European men, and they said:
`The Lord has answered your prayer and has sent you manna; take it up and eat it.' "
Immediately the others went out and found many acres of the ground covered with this white substance. In every detail it corresponded to the coriander-like seeds of the original Manna. Its taste was like wafers and honey. When the people went out to gather the manna, they found no trace of the Europeans.
They gathered large quantities of this remarkable food, and their lives were sustained for some time until other food could be obtained. The wife immediately sent for her husband. When he came home he found them eating this food. He put a quantity of it in a small box and sent it to Cape Town to the missionary who had raised up this mission some fifteen years before.
The mission director, Carlos Seguesegue, wrote in his letter that accompanied the package: "It was on the 19th of March, 1939, even on this same day, that our God performed a miracle at Namba, for God caused to rain from heaven the bread of heaven which is called 'manna.' The people of Namba ate and filled plates of it. There ate of it many men and women and young children. All ate of it, and therefore I sent you a small amount of it to show you the manna, and to show you the certainty of the manna which fell on our village of Namba."
We have preserved some of this manna through the seven years since it happened, and numbers of persons have tasted it. The general testimony of those who have tasted it is that it has a remarkable sweetness and evidence of being a complete food in itself. A picture of a small quantity of it is published herewith.
In ancient times God permitted the manna to spoil each night if any were left over. The reason for this is given in the sixteenth chapter of Exodus, where it is said God wished to test their faith day by day. The manna was angels' food and should keep forever.
God had a pot of it placed in the ark, and there it remained for ages. This that we have is as fresh as it was on the day it appeared on the fields of central Angola.
No, the day of miracles is not past.
The same God who fed the hosts of Israel in the wilderness for forty years is willing and able to answer the prayer of faith even today.
-------------------------------------
Luanda, Angola
The title to this program, The Mission To The Cities, the Seventh Day Adventist Church in Southern African division has targeted Luanda, Angola as its major effort.
Angola went through a terrible time during the civil war that lasted more than 20 years, and after, thank God the country is rebuilding and Angola is listed as one of the comforting economies in the world. It is indeed humbling to see the people of Angola thirsting for the Word of God.
The story of "Luanda For Christ In Angola" would not be complete without the testimony of Sister Aidalinda ( name change) whose car was shot at by robbers as she was on her way to evangelize. The robber shot at her at close range and stole all her belongings including her bundle --- but we thank God because she escaped unhurt and seeing that miracles do still happen today.
(Another man.) It's a miracle that our sister is alive today. They shot at her car in her possession of where the material for the program, "Luanda For Christ" in the bindings and boxes. But God protected her. And we thank God these are the extra ordinary experiences God is showing His power to protect His people in Angola, Luanda for Christ.
(Aidalinda's husband)—I thank God for protecting my wife, if it wasn't for His protection my wife would be dead today.
(Aidalinda)—I want to thank God I am alive today. On that fateful day everything could have happened. I just came out of the bank empty handed because the bank was full. However, the Lord was watching me from afar because I was carrying the materials for Bibles, Luanda for Christ contains. I got into my car----When the robbers open fire on me, I just ignored them. The bullet went through my window missing me by about three centimeters in front of me and went out through the passenger door. I must admit I am amazed to be alive today.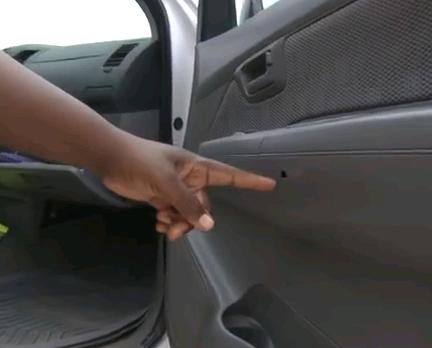 The time for prayer should not be underestimated. In one of her writings Sister Ellen White says-- We are not safe for even a minute without prayer. Making prayer apart of her lifestyle is what saved Sister Aidalinda from losing her life. As the work for winning more souls in Angola continues it is clear that God's Hand is at play.
And we praise Him for all the success that is taking place in Angola. By the end of this campaign in December the church expects to have baptized more than triple the number of new souls in Angola alone.
The baptisms and miracles that are taking place in Angola regarding the Luanda For Christ Campaign, would not be complete without the mention on the manna that falls every Wednesday and Friday at the Namba Adventist Station in the southern part of Angola. Manna has been falling in this vast stricken area since 1945 and we praise God to His providing for His people.
(Another witness) "We have always had a poor harvest in this area, but God has always provided for his people. My sister can testify the faith in having the manna when times were hard at Namba Adventist Mission and till today people are still eating it."
Curiosity killed the cat.
(A group of people came to Namba Mission) ----visited the area in the southern part of Angola to get the first hand information and as they say the good is in the eating. Here we are at the Namba Adventist station. We came, we saw, we smelled, we timed, now I'm tasting for the third time just to convince you this is indeed manna from heaven. The taste, I can't describe it. It tastes of everything that I have ever eaten that is so good. (Another witness)—I came to taste the manna and I can't really describe how it is really like. It is like, honey like, it is like a cake. I really don't have words to describe what it tasted like. Exactly, I don't know how to describe it. I just know that it's white and it's sweet. But I don't have anything in the country to compare with it.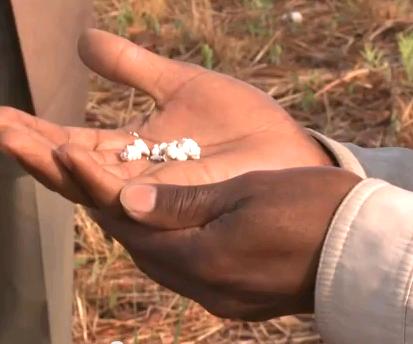 (Another witness) This story of Namba, just to read in story time in African book. I taught my kids when they were growing about the story and when we heard, my kids learned that we are going through Angola, my kids asked me, mom, is that the same place where the manna was falling, and I said yes, it should be in Angola, but I don't know exactly where that place is. But when we came here in Angola we inquired of the place where it is and they said even now manna is still falling and I am happy to be visiting in the place today and I picked a few pieces of it. I tasted it, it is very nice. Ah, When you are eating it, it is like mixing sweet and a good fragrance on it. So you cannot really explain the way it taste, but it is very nice food.
(Another witness) Well. God has been very good. Because since I have been going all over. I've read about it, I tried to look about it. When I looked about it I found a small piece in Signs of the Times, which is documented there, but even after I saw it, I still had doubts in my mind formed about it. Well, this morning we made it, to come here. I can't still believe that I'm here. And ah, we've got a bit of it here. It's a bit, it's a bit hard, it's dried up a bit, it's more like a cake, icing sugar that has been dried so the taste is very sweet.
(Another witness) The location of manna falling in Namba are the location in the southern parts of Angola this came more that fifty years ago when there was a famine in this area. Villagers had to walk long distances for food and those who had it had to beat it and sweat it out and grind the maze into meal and it took a lot of tedious exercise, but it had to be done. The mission station was destroyed in the civil war in Angola, which lasted more than 20 years. When the mission was destroyed they had to rebuild. Manna started falling again on Namba when the mission station was rebuilt. This is a living miracle and all this shows us the presents of God. This Adventist Mission Station must be preserved by all means. On the day Namba Mission Station was dedicated to the Lord, manna fell like it had never happened before, and the community was terrified. I was born in this place, I've been, I grew up in this same place, and from my childhood I have been witnessing this miracle of the manna falling, but something what we should talk about is that a very big miracle is happening. But then they went into darkness and sin. But after the mission had been renewed, there was a big miracle that manna fall in such quantities which was never seen before. It fell among us beside of the church and it fell even up the mountain. All the ground was covered with manna. This happened at a time when the mission was renewed, and the people were marveling and wondering why this, but, manna never fell in such a way. We went out to call people to collect manna but they refused, they were afraid, because it was too much. The whole ground was covered with manna, the people were afraid to come out to collect it. Only little children came and collected it. When permission reached the union,... from Portugal they came to witness the Miracle because the manna was kept till they came, and they were shown what was really happening in this place, manna fell as never before.
(Another witness) Sometime in the past there was a famine around the area, and people had no food. They decided to fast and pray to God. The pastor... of the mission was away. Only Women were around, but no food. After three days of prayer they received manna. A small girl came to this bush and found some things that looked like bread but white and she met two men who said take and eat. She ate, and carried some back home. And when her parent saw it she said what is this you have in your hand?
"I don't know but I have eaten."
"Don't eat, go throw."
"I have already eaten! The men that I met told me to eat."
And when they went to look for the men they were not there. Those two men disappeared. And the people went and picked the manna and ate and they were falling every day except on Sabbath. And this manna that has been falling, it falls Wednesdays and Fridays when it is not raining...And as today when we came it rained during the night, but manna fell and we still managed to find a bit of it as evidence that it was there. (Another witness) I cannot find words to tell how I feel now. I cannot tell when .... when our pastor preached about it when the Israelites were in the desert, when they saw it for the first time, they just questioned what is it? And that is the same question I have now. What is it? Because, I cannot describe it. It's a miracle.
(Another witness) There is a miracle within a miracle regarding the falling of manna in Namba Adventist Mission Station. When the church members are not in good standing with the Lord the manna that falls is not white. But is blood like and very bitter. The falling of the manna has to do with the believers also around. If in this congregation one of the believers is not walking well with God, the manna that will fall that week will be bitter and that's until there is a revival among the members. It's also good to consider at one time the leader of this place was living in sin. The manna fell but it was no longer white as you see today. It was white and red, it was red and white and for that reason the people tried to eat it and it was bitter, because the administrator of the place was living in sin. So from that point we got to know that. This manna, it is God who sent it to this place, however, it is sweet today, as you taste today, it is best only when God's children in this place stand in His way and live according to His principles. When someone, somewhere, among the people, this congregation live out.... of the church, according to their own way, not according to what the Lord approved the manna will fall but it won't be eatable, it will be bitter manna and it will change the color, it will be red manna. This white manna falls only when God's children stand in His way. When God's children live according to what He approved.
The testimonies here are really moving, but the Lord is witness to our character. He takes us at court. He is concerned of our lifestyle. He is concerned how we rate when sickly and in public. He sees what is heeded and so like times of old when Israel sinned against God, calamities came upon the Land of Israel and the same manner here, in this congregation, one person, especially the leader, go astray, they harbor some sin, many people will suffer.....The miracle taking place in south Angola Union is a living testimony that the Lord is there and still cares for His people.
....Reporting from Angola