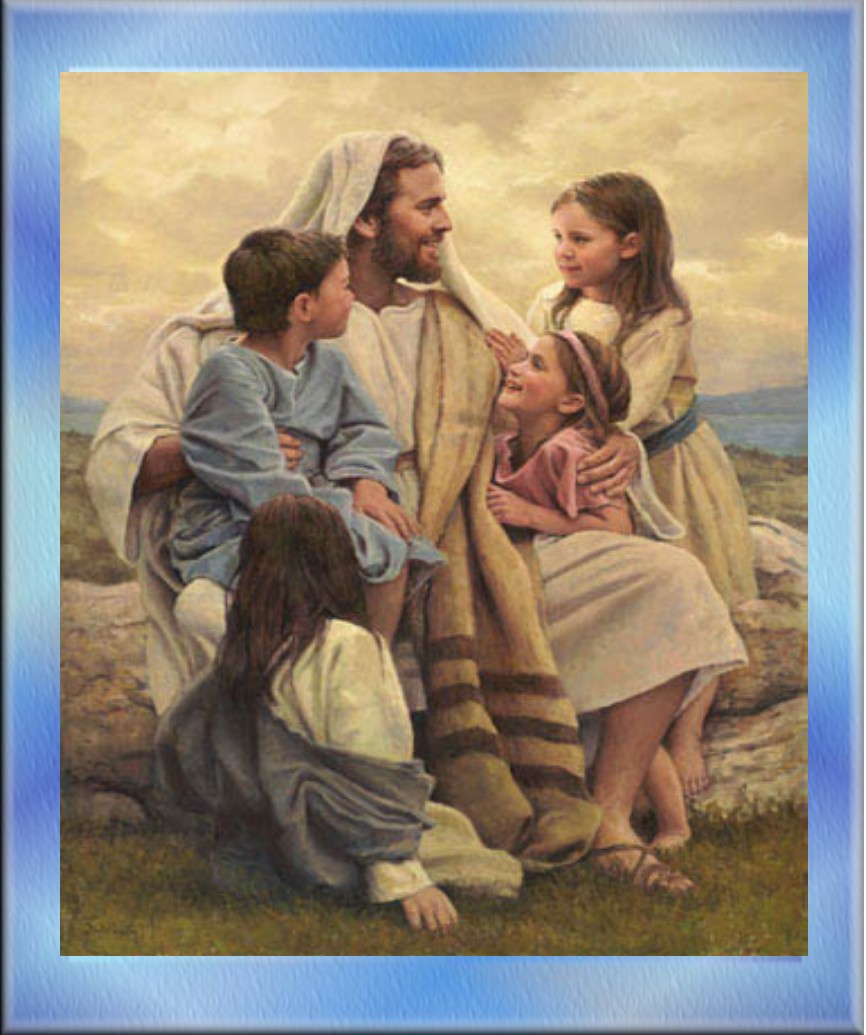 Heart Renewal
"And be renewed in the spirit of your mind; and that ye put on the new man, which after God is created in righteousness and true holiness."
Ephesians 4:23, 24.
"Christ was a faithful reprover.... To all things untrue and base His very presence was a rebuke. In the light of His purity, men saw themselves unclean, their life's aims mean and false. Yet He drew them. He who had created man, understood the value of humanity....
In every human being He discerned infinite possibilities. He saw men as they might be, transfigured by His grace--in "the beauty of the Lord our God" (Psalm 90:17).
All defects of character originate in the heart. Pride, vanity, evil temper, and covetousness proceed from the carnal heart unrenewed by the grace of Christ.
It is by the renewing of the heart that the grace of God works to transform the life. No mere external change is sufficient to bring us into harmony with God. There are many who try to reform by correcting this bad habit or that bad habit and they hope in this way to become Christians, but they are beginning in the wrong place. Our first work is with the heart....
The Scriptures are the great agency in this transformation of character. Christ prayed, "Sanctify them through thy truth: Thy Word is truth" (John 17:17). If studied and obeyed, the Word of God works in the heart, subduing every unholy attribute. The Holy Spirit comes to convict of sin, and the faith that springs up in the heart works by love to Christ, conforming us, body, soul, and spirit, to His will....
Let us not spare ourselves, but carry forward in earnest the work of reform that must be done in our lives. Let us crucify self. Unholy habits will clamor for the mastery, but in the name and through the power of Jesus we may conquer. To him who daily seeks to keep his heart with all diligence, the promise is given, "Neither death, nor life, nor angels, nor principalities, nor powers, nor things present, nor things to come, nor height, nor depth, nor any other creature, shall be able to separate us from the love of God, which is in Christ Jesus our Lord" (Romans 8:38, 39).
It Takes Time
"I the Lord do keep it; I will water it every moment: lest any hurt it, I will keep it night and day." Isaiah 27:3.
The mind of a man or a woman does not come down in a moment from purity and holiness to depravity, corruption, and crime. It takes time to transform the human to the divine, or to degrade those formed in the image of God to the brutal or the satanic. By beholding we become changed. Though formed in the image of his Maker, man can so educate his mind that sin which he once loathed will become pleasant to him. As he ceases to watch and pray, he ceases to guard the citadel, the heart.... Constant war against the carnal mind must be maintained; and we must be aided by the refining influence of the grace of God, which will attract the mind upward and habituate it to meditate upon pure and holy things.
Character does not come by chance. It is not determined by one outburst of temper, one step in the wrong direction. It is the repetition of the act that causes it to become habit, and molds the character either for good or for evil. Right characters can be formed only by persevering, untiring effort, by improving every entrusted talent and capability to the glory of God.
God expects us to build characters in accordance with the pattern set before us. We are to lay brick by brick, adding grace to grace, finding our weak points and correcting them in accordance with the directions given.
God gives us strength, reasoning power, time, in order that we may build characters on which He can place His stamp of approval. He desires each child of His to build a noble character, by the doing of pure, noble deeds, that in the end he may present a symmetrical structure, a fair temple, honored by man and God....
He who would grow into a beautiful building for the Lord must cultivate every power of the being. It is only by the right use of the talents that the character can be developed harmoniously. Thus we bring to the foundation that which is represented in the Word as gold, silver, precious stones--material that will stand the test of God's purifying fires.
Determination the Key
"For I am determined not to know any thing among you, save Jesus Christ, and him crucified."
1 Corinthians 2:2.
Many are attracted by the beauty of Christ and the glory of heaven, who yet shrink from the conditions by which alone these can become their own. . . . To renounce their own will, their chosen objects of affection or pursuit, requires a sacrifice at which they hesitate and falter and turn back. . . . They desire the good, they make some effort to obtain it; but they do not choose it; they have not a settled purpose to secure it at the cost of all things.
The only hope for us if we would overcome is to unite our will to God's will, and work in cooperation with Him, hour by hour and day by day. We cannot retain self and yet enter the kingdom of God. If we ever attain unto holiness, it will be through the renunciation of self and the reception of the mind of Christ. Pride and self-sufficiency must be crucified. Are we willing to pay the price required of us? Are we willing to have our will brought into perfect conformity to the will of God? Until we are willing the transforming grace of God cannot be manifest upon us.
By becoming thoroughly acquainted with ourselves, and then combining with the grace of God a firm determination on our part, we may be conquerors, and become perfect in all things, wanting in nothing.
Opposing circumstances should create a firm determination to overcome them. The breaking down of one barrier will give greater ability and courage to go forward. Press with determination in the right direction, and circumstances will be your helpers, not your hindrances.
True Christian character is marked by a singleness of purpose, an indomitable determination, which refuses to yield to worldly influences, which will aim at nothing short of the Bible standard. . . . The consecration of Christ's follower must be complete. . . . He must be willing to bear patiently, cheerfully, joyfully, whatever in God's providence he may be called to suffer. His final reward will be to share with Christ the throne of immortal glory.
Felt in the Home
"Believe on the Lord Jesus Christ, and thou shalt be saved, and thy house."
Acts 16:31.
Missionary work is to be done in the home. Here those who have received Christ are to show what grace has done for them. A divine influence controls the true believer in Christ, and this influence makes itself felt throughout the home and is favorable for the perfection of the characters of all in the home. . . .
The church needs all the cultivated spiritual force, which can be obtained, that all, and especially the younger members of the Lord's family, may be carefully guarded. The truth lived at home makes itself felt in disinterested labor abroad. He who lives Christianity in the home will be a bright and shining light everywhere.
God wants the children and youth to join the Lord's army. . . . They must be trained to resist temptation and to fight the good fight of faith. Direct their minds to Jesus as soon as they can comprehend your lessons in simple words, easy to be understood. Teach them self-control. Teach them to begin the work of overcoming when young, and they will receive the precious help that Jesus can and will give, connected with prayerful efforts of parents. Cheer them with encouraging words for the battles they fight in resisting temptation and coming off conquerors through grace given them of Jesus Christ.
The harmony of the domestic circle is often broken by a hasty word and abusive language. How much better were it left unsaid. One smile of pleasure, one peaceful, approving word spoken in the spirit of meekness, would be a power to soothe, to comfort, and to bless. . . . Many excuse their hasty words and passionate tempers by saying: "I am sensitive; I have a hasty temper." This will never heal the wounds made by hasty, passionate words. . . . The natural man must die, and the new man, Christ Jesus, take possession of the soul. . . . You may show by your life what the power and grace of God can do in transforming the natural man into a spiritual man in Christ Jesus.
That the World May Know
"Ye are my witnesses, saith the Lord, that I am God."
Isaiah 43:12.
A living Christian will have a living testimony to bear. If you have been following Jesus step by step, you will have something right to the point to relate of the way He has led you. You can tell how you tested His promise, and found the promise true. You can point to the living spots in your experience, without going back for years into the past. Would that we could oftener hear the simple, earnest testimony of heart conflicts and victories. . . .
Every true Christian will have a battle to fight to practice the principles of truth as well as to assent to them. . . . The Captain of our salvation calls for witnesses fresh from the field of action. Those who have been fiercely assaulted by the enemies of truth and the adversary of souls, and who have conducted themselves as did Jesus in His hour of trial, will have a testimony to bear which will thrill the hearts of the hearers. They will indeed be witnesses for Jesus.
We do not always realize the power of example. We are brought in contact with others. We meet persons who are erring, who do wrong in various ways; they may be disagreeable, quick, passionate, dictatorial. While dealing with these we must be patient, forbearing, kind, and gentle. . . . There are trials and perplexities for us all to encounter; for we are in a world of cares, anxieties, and disappointments. But these continual annoyances must be met in the spirit of Christ. Through grace we may rise superior to our surroundings, and keep our spirits calm and unruffled amid the frets and worries of everyday life. We shall thus represent Christ to the World.
Christ sought to save the world, not by conformity to it, but by revealing to the world the transforming power of the grace of God to mold and fashion the human character after the likeness of the character of Christ.
The grace of Christ is to work a wonderful transformation in the life and character of its receiver; and if we are truly the disciples of Christ, the world will see that divine power has done something for us; for while we are in the world, we shall not be of it.
Sustaining the Spiritual Life
"Jesus said unto them, I am the bread of life: he that cometh to me shall never hunger; and he that believeth on me shall never thirst."
John 6:35.
God speaks to us in His Word. Here we have in clearer lines the revelation of His character, of His dealings with men, and the great work of redemption. Here is open before us the history of patriarchs and prophets and other holy men of old. They were men "subject to like passions as we are" (James 5:17). We see how they struggled through discouragements like our own, how they fell under temptation as we have done, and yet took heart again and conquered through the grace of God: and beholding, we are encouraged in our striving after righteousness. As we read of the precious experiences granted them, of the light and love and blessing it was theirs to enjoy, and of the work they wrought through the grace given them, the spirit that inspired them kindles a flame of holy emulation in our hearts and a desire to be like them in character--like them to walk with God.
Jesus said of the Old Testament Scriptures--and how much more it is true of the New--"They are they which testify of me" (John 5:39). . . . If you would become acquainted with the Saviour, study the Holy Scriptures. Fill the whole heart with the words of God. They are the living water, quenching your burning thirst. They are the living bread from heaven. . . . Our bodies are built up from what we eat and drink; and as in the natural economy, so in the spiritual economy: it is what we meditate upon that will give tone and strength to our spiritual nature.
Spiritual life must be sustained by communion with Christ through His Word. The mind must dwell upon it, the heart must be filled with it. The Word of God laid up in the heart and sacredly cherished and obeyed, through the power of the grace of Christ can make man right, and keep him right.
When His words of instruction have been received, and have taken possession of us, Jesus is to us an abiding presence, controlling our thoughts and ideas and actions. . . . Jesus Christ is everything to us--the first, the last, the best in everything."
AG 223-228