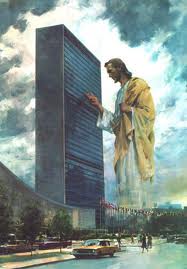 While Probation Lasts
"He that is unjust, let him be unjust still: and he which is filthy, let him be filthy still: and he that is righteous, let him be righteous still: and he that is holy, let him be holy still."
Revelation 22:11.
"All the good that man enjoys comes because of the mercy of God. He is the great and bountiful Giver. His love is manifest to all in the abundant provision made for man. He has given us probationary time in which to form characters for the courts above.
We believe without a doubt that Christ is soon coming. This is not a fable to us; it is a reality. . . . When He comes He is not to cleanse us of our sins, to remove from us the defects in our characters, or to cure us of the infirmities of our tempers and dispositions. If wrought for us at all, this work will all be accomplished before that time. When the Lord comes, those who are holy will be holy still. Those who have reserved their bodies and spirits in holiness, in sanctification and honor, will then receive the finishing touch of immortality. But those who are unjust, unsanctified, and filthy will remain so forever. No work will then be done for them to remove their defects and give them holy characters. The Refiner does not then sit to pursue His refining process and remove their sins and their corruption. This is all to be done in these hours of probation. It is now that this work is to be accomplished for us.
During probationary time the grace of God is offered to every soul. But if men waste their opportunities in self-pleasing, they cut themselves off from everlasting life. No after-probation will be granted them. By their own choice they have fixed an impassable gulf between them and their God.
Many are deceiving themselves by thinking that the character will be transformed at the coming of Christ, but there will be no conversion of heart at His appearing. Our defects of character must here be repented of, and through the grace of Christ we must overcome them while probation shall last. This is the place for fitting up for the family above.
Probation is almost ended. . . . Get ready! get ready! Work while the day lasts, for the night cometh when no man can work."
The Reward
"Behold, I come quickly; and my reward is with me, to give every man according as his work shall be."
Revelation 22:12.
"In His divine arrangement, through His unmerited favor, the Lord has ordained that good works shall be rewarded. We are accepted through Christ's merit alone; and the acts of mercy, the deeds of charity, which we perform, are the fruits of faith; and they become a blessing to us; for men are to be rewarded according to their works. It is the fragrance of the merit of Christ that makes our good works acceptable to God, and it is grace that enables us to do the works for which He rewards us. Our works in and of themselves have no merit. . . . We deserve no thanks from God. We have only done what it was our duty to do, and our works could not have been performed in the strength of our own sinful natures.
We need . . . to bring the light and grace of Christ into all our works. We need to take hold of Christ and to retain our hold of Him until we know that the power of His transforming grace is manifested in us. We must have faith in Christ if we would reflect the divine character. . . . Faith in the Word of God and in the power of Christ to transform the life will enable the believer to work His works.
To His servants Christ commits "His goods"--something to be put to use for Him. He gives "to every man his work." . . . Not more surely is the place prepared for us in the heavenly mansions than is the special place designated on earth where we are to work for God. . . .
Christ has paid us our wages, even His own blood and suffering, to secure our willing service. He came to our world to give us an example of how we should work, and what spirit we should bring into our labor. He desires us to study how we can best advance His work and glorify His name in the world.
The sanctification of the soul by the working of the Holy Spirit is the implanting of Christ's nature in humanity. Gospel religion is Christ in the life--a living, active principle. It is the grace of Christ revealed in character and wrought out in good works."
AG 243-244