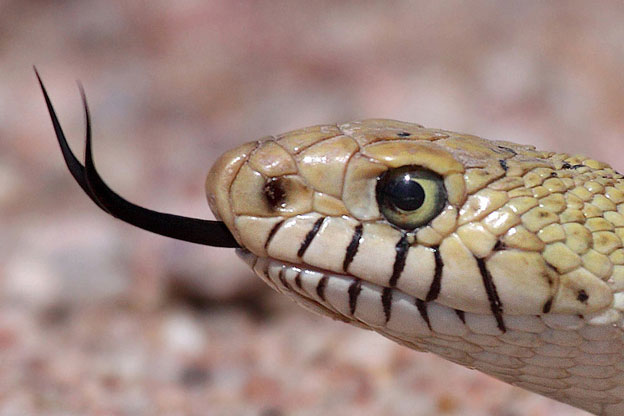 Forked Tongue
The people in this verse are living two lives, saying with their lips they are Christians and by the way they live and think they are not Christians at all only following the example of the devil for he loves pretending and lying and deceit.
"You think, that those who worship before the saint's feet, (Revelation 3:9), will at last be saved. Here I must differ with you; for God shew me that this class were professed Adventists, who had fallen away, and "crucified to themselves the Son of God afresh, and put him to an open shame." And in the "hour of temptation," which is yet to come, to show out every one's true character, they will know that they are forever lost; and overwhelmed with anguish of spirit, they will bow at the saint's feet." WLF 12
Rebuke Flattery of Women.--You will sometimes be flattered by men, but more frequently by women. Especially when you present the truth in new fields, will you meet persons who will engage in this wicked flattery. As a servant of Christ, despise the flattery; shun it as you would a venomous serpent. Rebuke the woman who will praise your smartness, holding your hand as long as she can retain it in her own. Have little to say to persons of this class; for they are the agents of Satan, and carry out his plans by laying bewitching snares to beguile you from the path of holiness. Every sensible Christian lady will act a modest part; she will understand the devices of Satan, and will not be a co-laborer with him.
Never earn the reputation of being a minister who is a particular favorite with the women. Shun the society of those who by their arts would weaken in the least your purpose to do right, or bring a stain upon the purity of your conscience. Do not give them your time or your confidence; for they will leave you feeling bereft of your spiritual strength. Do nothing among strangers, on the cars, in the home, in the street, that would have the least appearance of evil.
Review and Herald, July 8, 1884.
Ev 680
Danger in Venturing From the Protection of Heaven
Angels of God will preserve His people while they walk in the path of duty, but there is no assurance of such protection for those who deliberately venture upon Satan's ground. An agent of the great deceiver will say and do anything to gain his object. It matters little whether he calls himself a spiritualist, an "electric physician," or a "magnetic healer." By specious pretenses he wins the confidence of the unwary. He pretends to read the life history and to understand all the difficulties and afflictions of those who resort to him. Disguising himself as an angel of light, while the blackness of the pit is in his heart, he manifests great interest in women who seek his counsel. He tells them that all their troubles are due to an unhappy marriage. This may be too true, but such a counselor does not better their condition. He tells them that they need love and sympathy. Pretending great interest in their welfare, he casts a spell over his unsuspecting victims, charming them as the serpent charms the trembling bird. Soon they are completely in his power; sin, disgrace, and ruin are the terrible sequel.
These workers of iniquity are not few. Their path is marked by desolated homes, blasted reputations, and broken hearts. But of all this the world knows little; still they go on making fresh victims, and Satan exults in the ruin he has wrought.
"Ahaziah fell down through a lattice in his upper chamber that was in Samaria, and was sick: and he sent messengers, and said unto them, Go, inquire of Baal-zebub the god of Ekron whether I shall recover of this disease. But the angel of the Lord said to Elijah the Tishbite, Arise, go up to meet the messengers of the king of Samaria, and say unto them, Is it not because there is not a God in Israel, that ye go to inquire of Baal-zebub the god of Ekron? Now therefore thus saith the Lord, Thou shalt not come down from that bed on which thou art gone up, but shalt surely die." 2 Kings 1:2-4.
The history of King Ahaziah's sin and punishment has a lesson of warning which none can disregard with impunity. Though we do not pay homage to heathen gods, yet thousands are worshiping at Satan's shrine as verily as did the king of Israel. The very spirit of heathen idolatry is rife today, though under the influence of science and education it has assumed a more refined and attractive form. Every day adds sorrowful evidence that faith in the sure word of prophecy is fast decreasing, and that in its stead superstition and satanic witchery are captivating the minds of men. All who do not earnestly search the Scriptures and submit every desire and purpose of life to that unerring test, all who do not seek God in prayer for a knowledge of His will, will surely wander from the right path and fall under the deception of Satan.
The Hebrews were the only nation favored with a knowledge of the true God. When the king of Israel sent to inquire of a pagan oracle, he proclaimed to the heathen that he had more confidence in their idols than in the God of his people, the Creator of the heavens and the earth. In the same manner do those who profess to have a knowledge of God's word dishonor Him when they turn from the Source of strength and wisdom to ask help or counsel from the powers of darkness. If God's wrath was kindled by such a course on the part of a wicked, idolatrous king, how can He regard a similar course pursued by those who profess to be His servants?"
CCh 319-320
"The Scriptures positively forbid intercourse with evil angels on the supposition of communion with the dead. Through this deception Satan can educate souls in his school of falsehood, and make of none effect the lessons that Christ would teach, which, if practiced, would result in the eternal life of those who obey. Satan is seeking to form a great confederacy of evil by uniting fallen men and fallen angels. But the Lord says: "When they shall say unto you, Seek unto them that have familiar spirits, and unto wizards that peep and that mutter; should not a people seek unto their God? for the living to the dead? To the law and to the testimony; if they speak not according to this word, it is because there is no light in them." "And the soul that turneth after such as have familiar spirits, and after wizards, to go a-whoring after them, I will even set my face against that soul, and will cut him off from among his people." "Regard not them that have familiar spirits, neither seek after wizards, to be defiled by them; I am the Lord your God."
The great power that attends Spiritualism has its origin in the great leading rebel, Satan, the prince of devils. It is through his artifice that evil angels have been able to substitute themselves for the dead, and through lying hypocrisy they have led men to have intercourse with devils. Those who commune with the supposed spirits of the dead are communing with those who will have a corrupting, demoralizing power upon the mind. Christ commanded that we should have no intercourse with sorcerers and with those who have familiar spirits. This class are represented in the Gospel as among those who shall perish in their iniquity,--"the fearful, and unbelieving, and the abominable, and murderers, and whoremongers, and sorcerers, and idolaters, and all liars, shall have their part in the lake which burneth with fire and brimstone."
For years Spiritualism has been growing in strength and gaining in popularity by advocating a certain kind of faith in Christ, and thus many Protestants are becoming infatuated with this mystery of iniquity. It is little wonder that they are deluded, when they persistently retain the error that, as soon as the breath leaves the body, the spirit goes immediately to heaven or hell. Through the hold this doctrine has upon them the way is prepared for the delusive working of the prince of the power of the air. Satan personated the serpent in Eden, regarding this creature as best adapted for his line of temptations. Satan has been increasing in skillful methods by constantly practicing upon the human mind. It is his one purpose to complete the work which he began in Eden, and work the ruin of mankind. Through his mysterious workings he can insinuate himself into the circles of the most educated and refined, for he was once an exalted being, in a high position of responsibility among the heavenly hosts. It is a mistake to represent him as a monstrous being with hoofs and horns, for he is still a fallen angel. He is capable of uniting the highest intellectual greatness with the basest cruelty and the most degrading corruption. If he had not this power, many would escape his snares who are now charmed with his attractive representations and taken captive by his delusions.
As the Spirit of God shall be withdrawn from the earth, Satan's power will be more and more manifest. The knowledge that he had through being in connection with God, as a covering cherub, he will now use to subordinate his subjects who fell from their high estate. He will use every power of his exalted intellect to misrepresent God and to instigate rebellion against Jesus Christ, the Commander of heaven. In the synagogue of Satan he brings under his scepter, and into his counsels, those agents whom he can use to promote his worship. It is not a strange matter to find a species of refinement, and a manifestation of intellectual greatness, in the lives and characters of those who are inspired by fallen angels. Satan can impart scientific knowledge, and give men chapters upon philosophy. He is conversant with history, and versed in worldly wisdom. Almost every phase of talent is now being brought into captivity to the prince of the power of darkness. Worldly minded men, because they wish to exalt themselves, and have separated from God, do not love to retain God in their knowledge, for they claim to possess a higher, grander intellect than that of Jesus Christ. Satan envies Christ, and makes the claim that he is entitled to a higher position than the Commander of heaven. His self-exaltation led him to despise the law of God, and resulted in his expulsion from heaven.
Through the Papacy he has manifested his character, and brought out the principles of his government. Of this power the apostle Paul says: "Let no man deceive you by any means; for that day shall not come, except there come a falling a way first, and that man of sin be revealed, the son of perdition; who opposeth and exalteth himself above all that is called God, or that is worshiped; so that he as God sitteth in the temple of God, showing himself that he is God. . . . For the mystery of iniquity doth already work. . . . Shall that wicked be revealed, whom the Lord shall consume with the spirit of his mouth, and shall destroy with the brightness of his coming, even him, whose coming is after the working of Satan with all power and signs and lying wonders, and with all deceivableness of unrighteousness in them that perish; because they received not the love of the truth, that they might be saved. And for this cause God shall send them strong delusion, that they should believe a lie; that they all might be damned who believed not the truth, but had pleasure in unrighteousness."
The confederacy of evil will not stand. The Lord says: "Associate yourselves, O ye people, and ye shall be broken in pieces. . . . Take counsel together, and it shall come to naught; speak the word, and it shall not stand; for God is with us. For the Lord spake thus to me with a strong hand, and instructed me that I should not walk in the way of this people, saying, Say ye not, A confederacy, to all them to whom this people shall say, A confederacy; neither fear ye their fear, nor be afraid. Sanctify the Lord of hosts himself; and let him be your fear, and let him be your dread. And he shall be for a sanctuary."
Satan will use his agencies to carry out diabolical devices, to overpower the saints of God, as in times past he used the Roman power to stay the course of Protestantism; yet the people of God can look calmly at the whole array of evil, and come to the triumphant conclusion that because Christ lives we shall live also. The people of God are to advance in the same spirit in which Jesus met the assaults of the prince of darkness in the past. The evil confederacy can advance only in the course which Jesus has marked out before them; every step of their advance brings the saints of God nearer the great white throne, nearer the successful termination of their warfare. The confederacy of evil will finally be destroyed; for the prophet says, "Behold, the day cometh, that shall burn as an oven; and all the proud, yea, and all that do wickedly, shall be as stubble; and the day that cometh shall burn them up, saith the Lord of hosts, that it shall leave them neither root nor branch." Even of him whose heart was lifted up because of his beauty, who corrupted his wisdom by reason of his brightness, the Lord says: "I will bring forth a fire from the midst of thee, it shall devour thee, and I will bring thee to ashes upon the earth in the sight of all them that behold thee. All they that know thee among the people shall be astonished at thee; thou shalt be a terror, and never shalt thou be any more."
ST, May 28, 1894