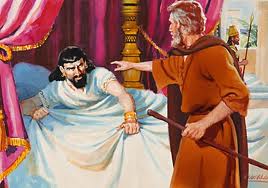 Spiritualism
"Through spiritualism many of the sick, the bereaved, the curious, are communicating with evil spirits. All who venture to do this are on dangerous ground. The word of truth declares how God regards them. In ancient times He pronounced a stern judgment on a king who had sent for counsel to a heathen oracle: "Is it not because there is not a God in Israel, that ye go to inquire of Baal-zebub the god of Ekron? Now therefore thus saith the Lord, Thou shalt not come down from that bed on which thou art gone up, but shalt surely die." 2 Kings 1:3, 4.
The magicians of heathen times have their counterpart in the spiritualistic mediums, the clairvoyants, and the fortune-tellers of today. The mystic voices that spoke at Endor and at Ephesus are still by their lying words misleading the children of men. Could the veil be lifted from before our eyes, we should see evil angels employing all their arts to deceive and to destroy. Wherever an influence is exerted to cause men to forget God, there Satan is exercising his bewitching power. When men yield to his influence, ere they are aware the mind is bewildered and the soul polluted. The apostle's admonition to the Ephesian church should be heeded by the people of God today: "Have no fellowship with the unfruitful works of darkness, but rather reprove them."
Ephesians 5:11.
AA 290
"The history of King Ahaziah's sin and its punishment has in it a warning which none can disregard with impunity. Men today may not pay homage to heathen gods, yet thousands are worshiping at Satan's shrine as verily as did the king of Israel. The spirit of idolatry is rife in the world today, although, under the influence of science and education, it has assumed forms more refined and attractive than in the days when Ahaziah sought to the god of Ekron. Every day adds its sorrowful evidence that faith in the sure word of prophecy is decreasing, and that in its stead superstition and satanic witchery are captivating the minds of many.
Today the mysteries of heathen worship are replaced by the secret association and seances, the obscurities and wonders, of spiritistic mediums. The disclosures of these mediums are eagerly received by thousands who refuse to accept light from God's word or through His Spirit. Believers in spiritism may speak with scorn of the magicians of old, but the great deceiver laughs in triumph as they yield to his arts under a different form.
There are many who shrink with horror from the thought of consulting spirit mediums, but who are attracted by more pleasing forms of spiritism. Others are led astray by the teachings of Christian Science, and by the mysticism of Theosophy and other Oriental religions.
The apostles of nearly all forms of spiritism claim to have power to heal. They attribute this power to electricity, magnetism, the so-called "sympathetic remedies," or to latent forces within the mind of man. And there are not a few, even in this Christian age, who go to these healers, instead of trusting in the power of the living God and the skill of well-qualified physicians. The mother, watching by the sickbed of her child, exclaims, "I can do no more. Is there no physician who has power to restore my child?" She is told of the wonderful cures performed by some clairvoyant or magnetic healer, and she trusts her dear one to his charge, placing it as verily in the hand of Satan as if he were standing by her side. In many instances the future life of the child is controlled by a satanic power which it seems impossible to break."
"Yet now the king of Israel, turning from God to ask help of the worst enemy of his people, proclaimed to the heathen that he had more confidence in their idols than in the God of heaven. In the same manner do men and women dishonor Him when they turn from the Source of strength and wisdom to ask help or counsel from the powers of darkness. If God's wrath was kindled by Ahaziah's act, how does He regard those who, having still greater light, choose to follow a similar course?"
PK 210-211
"Many will not receive the seal of God because they do not keep His commandments or bear the fruits of righteousness.
The great mass of professing Christians will meet with bitter disappointment in the day of God. They have not upon their foreheads the seal of the living God. Lukewarm and halfhearted, they dishonor God far more than the avowed unbeliever. They grope in darkness, when they might be walking in the noonday light of the Word, under the guidance of One who never errs. . . ."
Mar 241
"If you indulge stubbornness of heart, and through pride and self-righteousness do not confess your faults, you will be left subject to Satan's temptations. If when the Lord reveals your errors you do not repent or make confession, his providence will bring you over the ground again and again. You will be left to make mistakes of a similar character, you will continue to lack wisdom, and will call sin righteousness, and righteousness sin. The multitude of deceptions that will prevail in these last days will encircle you, and you will change leaders, and not know that you have done so."
RH, December 16, 1890
"I wish to sound a note of warning to our people nigh and afar off. An effort is being made by those at the head of the medical work in Battle Creek to get control of property over which, in the sight of the heavenly courts, they have no rightful control. I write now to guard ministers and lay members from being misled by those who are making these efforts. There is a deceptive working going on to obtain property in an underhand way. This is condemned by the law of God. I will mention no names. But there are doctors and ministers who have been influenced by the hypnotism exercised by the father of lies. Notwithstanding the warnings given, Satan's sophistries are being accepted now just as they were accepted in the heavenly courts. The science by which our first parents were deceived is deceiving men today. Ministers and physicians are being drawn into the snare."
"I have sent warnings to many physicians and ministers, and now I must warn all our churches to beware of men who are being sent out to do the work of spies in our conferences and churches,--a work instigated by the father of falsehood and deception. Let every church-member stand true to principle. We have been told what would come, and it has come. The enemy has been working under a species of scientific devising, even as he worked in Eden. I can not specify all now, but I say to our churches, Beware of the representations coming from Battle Creek that would lead you to disregard the warnings given by the Lord about the effort to make that a great educational center. Let not your sons and daughters be gathered there to receive their education. Powerful agencies have been stealthily working there to sow the seeds of evil.
I must speak plainly. It is presented to me that the condition of things is just what we were warned that it would be,"
SpTA12 8,9
Apostates Will Use Hypnotism
"The time has come when even in the church and in our institutions, some will depart from the faith, giving heed to seducing spirits and doctrines of devils. But God
will keep that which is committed to Him. Let us draw near to Him, that He may draw near to us. Let us bear a plain, clear testimony right to the point, that hypnotism is being used by those who have departed from the faith, and that we are not to link up with them. Through those who depart from the faith, the power of the enemy will be exercised to lead others astray."
3SM 411
"The enemy is subtle and very daring, but he is not invincible. He is a strong man armed, but if we keep close to the Captain of our salvation, using the weapon that He has given us, we shall be victorious."
CTr 190
"Tamper Not With Hypnotism.--Men and women are not to study the science of how to take captive the minds of those who associate with them. This is the science that Satan teaches. We are to resist everything of the kind. We are not to tamper with mesmerism and hypnotism --the science of the one who lost his first estate and was cast out of the heavenly courts."
2MCP 713
"Cut away from yourselves everything that savors of hypnotism, the science by which satanic agencies work."
-- Letter 20, 1902. 2SM 350.3