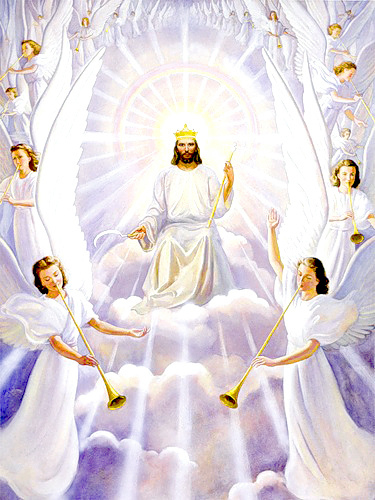 Signs For Jesus To Come
Act 2:18 And on my servants and on my handmaidens I will pour out in those days of my Spirit; and they shall prophesy:
Kim Davis Rally 09/05/15 (Video) This is an excellent video showing the dictatorship of the Hard Left over America. It is very clear and shows how the Hard Left are destroying the laws of America.
"Show me the law or Free Kim Davis"
Same-sex 'marriage' started with lawbreaking 09/05/15 This is a great article to show how the Hard Left reprobates violated the law to advance their godless agenda. Always remember that the Hard Left is highly motivated by a hatred for anything connected with the LORD and this is why they detest heterosexual marriage. Actually it is not heterosexual marriage that they detest, but the mere thought that this is the only marriage that drives them insane.
This is because marriage is an institution ordained by God, so the reprobate mind must attack it. Truly these people live in a sin delusion that knows no end. They have the same spirit in them that was in the French Revolution, and I firmly believe that America is heading to a French Revolution future. You MUST understand that the reprobates are driven to destroy anything associated with God, which means us. They hate us as much as the Nazis hated the Jews, and when the Hard Left can act, they will try to do what the Nazis did.
It is starting to play out right in front of your eyes, and the reprobates through "Judge" Bunning want to destroy Kim Davis. They want to do the same thing to everyone who stands like Kim is doing. What a time this is to stand for the Lord and His word in face of the reprobate onslaught. If we stand for the Lord and don't cut and run, He has our back. Look how just one handmaiden of the Lord has turned the reprobate world upside down. She is exposing their insanity, lies, hatred and what tyrants they are when they are in power.
"Let's recall that just last year, Jack Conway, Kentucky's attorney general, refused to defend the state's ban on same-sex 'marriage,' despite his oath of office, explaining that, 'Once I reached the conclusion that the law was discriminatory, I could no longer defend it. At that point, being true to myself became more important than the political considerations.'" "Where was the national condemnation of Conway?" Brown asks. "And where was the national condemnation of then-Attorney General Eric Holder when he instructed attorneys general nationwide that they were not obligated to defend state laws – meaning, specifically, bans on same-sex 'marriage' – if they found them to be discriminatory?" It's shocking the way the left didn't react when Obama and his attorneys general didn't obey the law. And so when they talk about the rule of law, they're very choosy, they're very selective about which ones they're going to obey and which ones they're going to fight against," Schlafly told WND. "They have several hundred sanctuary cities that are in open defiance of the law, and that does not seem to bother them," Schlafly added. "And in the marriage issues, some of them issued gay marriage licenses when it was clearly against the law, so the whole issue is a one-way street for the left." So Davis isn't the only revolutionary or "anarchist," as the left likes to call her. "In fact, she didn't fire the first revolutionary shot," Brown says. "That distinction belongs to a Supreme Court that concocted out of whole cloth a constitutional right to same-sex marriage, using legal 'reasoning' that reads more like a religious tract than a court opinion."
Israel and the Middle East War
UN chief seeks to breathe fresh life into peace talks 09/04/15 This is the exact event I was looking for that could trigger God's judgment this month or into October. The meeting is to start September 30 and carry over into October!
This needs to be watched very closely as any pressure coming on Israel to divide the land could trigger God's judgment on the world economy. Wow are events really hot as the economy is ready to blow, homosexuality is in the forefront in America, Europe is being "invaded" by Muslim refugees, Chinese warships are in our waters and Russia is constantly preparing for war.
"UN Secretary-General Ban Ki-moon will host a ministerial meeting of key global players trying to end the decades-old Israeli-Palestinian conflict on Sept. 30 during the annual high-level session of the General Assembly, the United Nations announced Friday. Spokesman Stephane Dujarric said that in addition to foreign ministers from the Quartet of Mideast mediators — the United States, United Nations, European Union and Russia — the secretary-general is inviting the Arab League secretary-general and the foreign ministers of Egypt, Jordan and Saudi Arabia to join the meeting."
The Road to World War 3
China's covert war with America heats up: warships near Alaska, another industrial explosion, and China unveils cruise missile that renders U.S. carriers obsolete 09/06/15 Some of this article is speculation, but the parts that are not are really good and thought provoking. Perhaps WW3 has already started, but in ways which we can't perceive yet.
For sure, China just unveiled the weapons that it is going to use against the US Navy. With America full speed ahead in promoting the homosexual agenda, led by Obama a man-of-sin, I believe that the LORD has raised up China to totally defeat the US in the Pacific. America is now not fit to be a world power with the Hard Left in charge of the government and so many Americans now living under the homosexual delusion. No nation can mock God as America has and survive very long. America is coming down just as the Lord pulled Rome down.
"China unveils Mach 10 "carrier killer" cruise missile that renders U.S. carriers tactically obsolete. On top of all this, China has just unveiled a Mach 10 cruise missile that can destroy U.S. aircraft carriers, thereby rendering them all but obsolete in the modern theater of war. A weapon so secret China would not reveal it for years will make its first public appearance in a military parade on Thursday, Chinese defence experts say. The so-called "carrier-killer" missile that threatens to reshape the balance of power in the western Pacific is set to wheel through the centre of Beijing along with 12,000 troops and 500 tanks and other vehicles as China marks the 70th anniversary of the end of the second world war. Like an intercontinental ballistic missile, the DF-21D goes into orbit, but after re-entering the atmosphere it is capable of manoeuvring on to a target, making it theoretically capable of landing a large warhead on or near a moving ship. Some analysts say such missiles threaten to consign aircraft carriers -- which form the basis of current US naval strategy -- to the dustbin, just as aircraft carriers themselves did to battleships with Japan's 1941 attack on Pearl Harbor."
Russia 'is building military base in Syria' 09/05/15 This is a huge development in the Middle East. This could bring Israel into a direct conflict with Russia and Iran. Wow
"Russia is building a military base in Syrian president Bashar al-Assad's heartland, according to American intelligence officials, in the clearest indication yet of deepening Russian support for the embattled regime of Bashar al-Assad. The anonymous officials say Russia has set up an air traffic control tower and transported prefabricated housing units for up to 1,000 personnel to an airfield serving the Syrian port city of Latakia. Russia has also requested the rights to fly over neighbouring countries with military cargo aircraft during September, according to the reports. The claims, which will raise fears that Russia is planning to expand its role in the country's civil war, will ratchet up tensions between Moscow and Washington over the future of Syria and its brutal ruler. Mr Obama on Friday met King Salman of Saudi Arabia to repeat their demand that any lasting settlement in Syria would require an end to the Assad regime. It leaves the US and Russia implacably opposed in their visions for Syria."
Financial Armageddon
BLACK MONDAY: FTSE Tanks, China Sinks, Dollar Tumbles 08/24/15 I have plead with people to be prepared both spiritually and physically. We are out of time with perhaps a month to get ready. Seek the Lord about what to do as everyone is different.
God has warned us this was coming as America is about to be held accountable for killing 60,000,000 million babies and the homosexual agenda. God is holy and He must move against America because as a nation we offended His holiness. He is also moving to defend His institution of marriage. The church failed to defend marriage, so now the Lord is moving against this reprobate nation. How could the church let the reprobates take over the nation? We have the Lord, yet refused to turn to Him.
"Alarm bells rang across world markets today as a 9 percent dive in Chinese shares and a sharp drop in the dollar and major commodities panicked investors fearing a Chinese "hard landing". State media has called it China's "Black Monday". Words such as 'bloodbath' have been used as stock markets in London, Paris and Frankfurt have opened sharply lower after their Asian counterparts slumped to 3-year lows as a three month-long rout in Chinese equities threatened to get out of hand – the Shanghai Composite in China closed down 8.5 per cent, the worst close since 2007."
G-20 Wrestles Currency Tension as China Says Bubble Has Burst 09/05/15 I believe the huge economic fall will hit when the UN bullies Israel to divide the land and Jerusalem. I just feel that later this month we are going to see awesome judgments on America and other nations, if they move against Israel. Look how Europe is now under judgment with huge numbers of Muslims flooding into the nations! I believe that Islam is one of God's judgments against a nation.
"Zhou Xiaochuan, governor of China's central bank, told a meeting of Group of 20 finance ministers in Ankara that a stock-market bubble in his country had "burst," according to Japan's Taro Aso. Another official present at the talks said China had presented the country's situation as a new normal. China is on the defensive as its slowing economy and market turbulence send shock waves through emerging markets just as the U.S. is preparing to raise interest rates. With the MSCI emerging market index down 18 percent so far this year, a draft communique prepared before the meeting cited "recent volatility in financial markets" and the need to monitor potential spillovers. The Shanghai Composite index has lost about 40 percent since reaching a three-year high in June. Zhou used the word "burst" three times in his explanation of what is going on with the stock market, according to a Japanese finance ministry official. The Chinese delegation said they were trying to shift to a different growth model with as little disruption as possible, according to an international official participating in the talks. They said were trying to reduce indebtedness and are planning measures that will regulate swings in the stock market."
Revelation 22:20 He which testifieth these things saith, Surely I come quickly. Amen. Even so, come, Lord Jesus.
JohnMcTernan | September 6, 2015