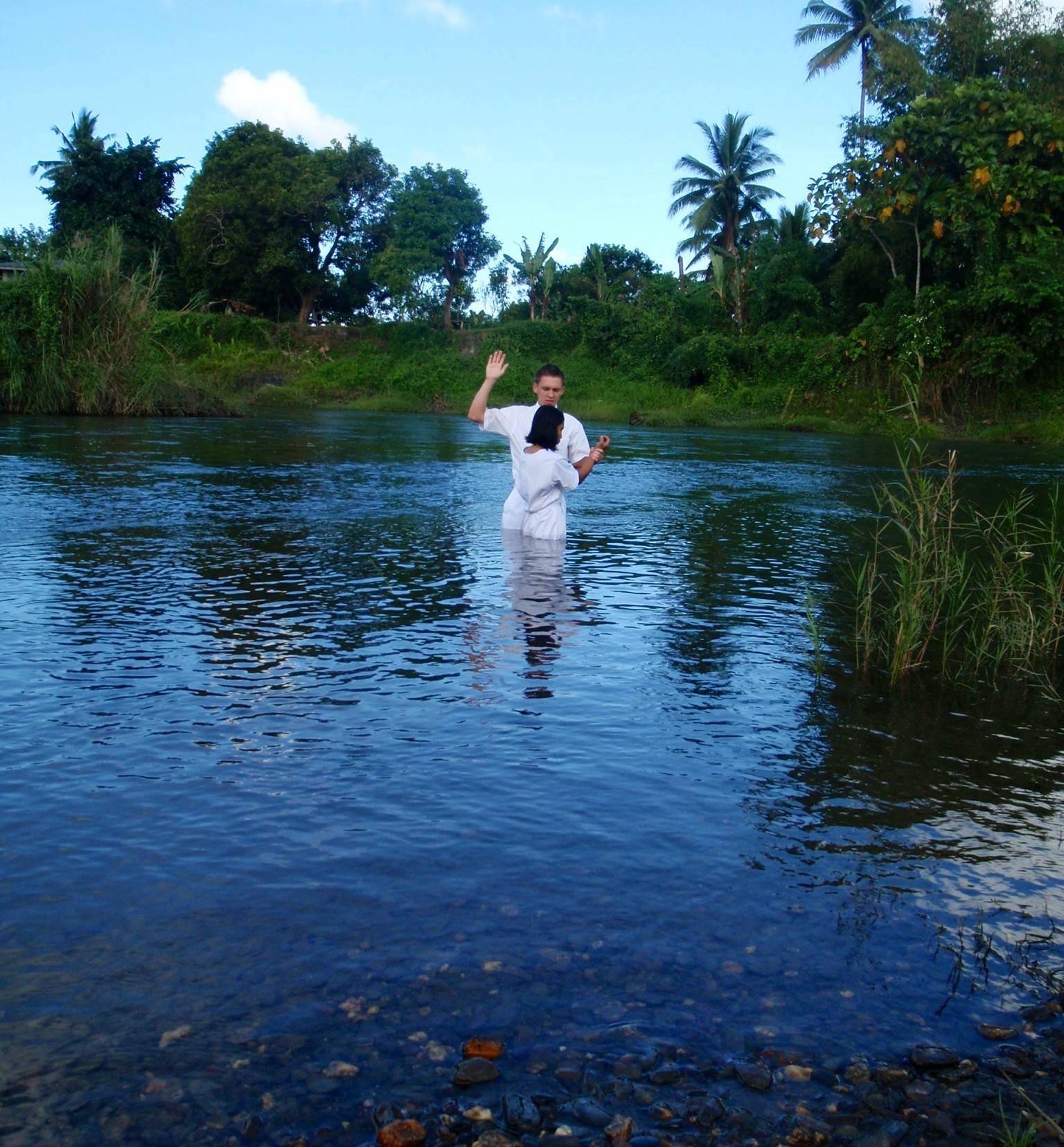 Faithful Under Trial
We had been visiting a family here in Impasug-ong. Romeo and Norma Sayusay and the their six children, Marvin 19, Michael 16; Honey,14; Aiai,11; Tonton, 8; and Ronron, 6. They were active members of the Fundamental Baptist Church.
One morning as I was washing my clothes, a man wearing a robe came to see me. He said that he was Pastor Desina from the Fundamental Baptist Church. He frankly told me that I should not visit his members, especially Sayusay family.
He said that I always preached about the ten commandments, the Sabbath day and food, so I began to explain to him slowly but surely, in a way that it would be easy for him to understand. I saw that his face was angry. Then he started reading from Galatians 5:4
"Christ is become of no effect unto you, whosoever of you are justified by the law; ye are fallen from grace."
So I tried to say that he should continue reading through verse six: "For in Jesus Christ neither circumcision availeth any thing, nor uncircumcision; but faith which worketh by love." Then I gave him a support text in John 14:15: "If ye love me keep my commandments." That means Galatians 5:4 is not about the ten commandments, but about circumcision. "He that saith, I know Him, and keepeth not His commandments, is a liar, and the truth is not in him."
1 John 2:4
He was still very angry and told me I should stop visiting his members. I answered that there are no boundaries to the preaching of the Good News, and that is the message of the three angels of Revelation 14.
I told him that I had no choice but to preach and that I would continue to visit his members and teach from the truth of the Bible. He then grabbed hold of my shirt and put his two finger into my eyes until my eyes hurt. He was very hot and angry because I still told him I would not stop visiting those who were willing to learn and to have a Bible study among his members. I also told him that we could not stop those willing to listen to the truth. I tried to tell him he should relax because he was acting without self-control and God was watching us and seeing what he was doing right then. Then he tried to calm down and asked my forgiveness.
He warned me again that I should not continue to visit the Sayusay family. Then he left. After that I went to visit the Sayusay family and told them what happened. I thanked God because they were very eager to learn more about the Bible, and they continued to read more about our beliefs. They attended church from July 2008 to May 2009, when they decided to receive baptism.
They are very happy now because they know the truth. For 21 years, as a member of the Fundamental Baptist Church, Romeo thought that he knew the truth already, but it turned out that there was more exact truth to learn. He asked me, "Brother, there is no religion that can save us, right?" I answered, "that is right, because God is the only one who can save us, but there is a religion that is pure. James1:27 Pure religion and undefiled before God and the Father is this, "To visit the fatherless and widows in their affliction, and to keep himself unspotted from the world." 'so it is pure religion that is not spotted by the world that leads to salvation."
After becoming Seventh-Day Adventists their family had some difficult trials. They were a joke to their neighbors and some of their relatives. But although his wife was ignored by her siblings and parents, they still continued to attend church and to serve God.
Then their son Tonton and daughter Aiai got dengue fever. They brought them to the emergency hospital in Kisolon, and I stayed with the father the whole night. Their mother was crying because when she asked her relative for help they told her that the reason why her son and daughter got sick was because of her change in religion. She realized that their trials were actually because they had chosen to follow God. Then we prayed in the hospital, together with the members of Impasug-ong church that God would never leave His son and daughter. Through God's help their son and daughter were healed and were discharged after three days. Sister Norma said, "There is nothing impossible with God."
"There hath no temptation taken you but such as is common to man: but God is faithful, who will not suffer you to be tempted above that ye are able; but will with the temptation also make a way to escape, that ye may be able to bear it."
1 Corinthians 10:13
God allows us to have trials to prove our characters.
"God tests and proves us by the common occurrences of life. It is the little things, which reveal the chapters of the heart. It is the little attentions, the numerous small incidents and simple courtesies of life, that make up the sum of life's happiness; and it is the neglect of kindly, encouraging, affectionate words, and the little courtesies of life, which helps compose the sum of life's wretchedness. It will be found at last that the denial of self for the good and happiness of those around us constitutes a large share of the life record in heaven. And the fact will also be revealed that the care of self, irrespective of the good and happiness of others, is not beneath the notice of our heavenly Father."
2T 133
"I saw that it is in the providence of God that widows and orphans, the blind, the deaf, the lame, and persons afflicted in a variety of ways, have been placed in close Christian relationship to His church; it is to prove His people and develop their true character. Angels of God are watching to see how we treat these persons who need our sympathy, love, and disinterested benevolence. This is God's test of our character. If we have the true religion of the Bible, we shall feel that a debt of love, kindness, and interest is due to Christ in behalf of His brethren; and we can do no less than to show our gratitude for His immeasurable love to us while we were sinners unworthy of His grace, by having a deep interest and unselfish love for those who are our brethren, and who are less fortunate than ourselves."
T 3, p. 511. ChS 191
Temtem Pedraverde