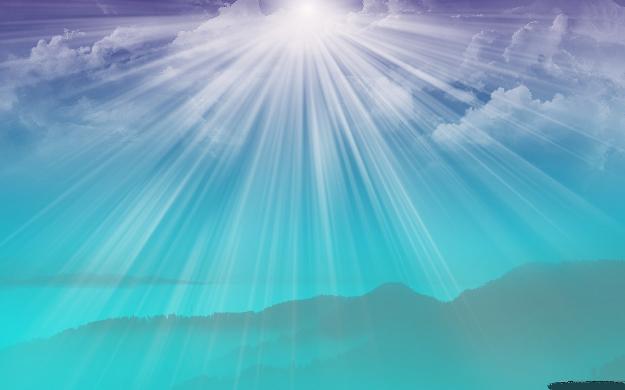 Go Into Darkness
"By their lack of devotion and piety, and their failure to reach a high religious standard, they make other souls contented with their position. Men of finite judgment cannot see that in patterning after these men who have so often opened to them the treasures of God's word, they will surely endanger their souls. Jesus is the only true pattern. Everyone must now search the Bible for himself upon his knees before God with the humble teachable heart of a child, if he would know what the Lord requires of him. However high any minister may have stood in the favor of God, if he neglects to follow out the light given him of God, if he refuses to be taught as a little child, he will go into darkness and satanic delusion and will lead others into the same path.
Not one of us will ever receive the seal of God while our characters have one spot or stain upon them. It is left with us to remedy the defects in our characters, to cleanse the soul temple of every defilement. Then the Latter Rain will fall upon us as the early rain fell upon the disciples on the Day of Pentecost.
No one need say that his case is hopeless, that he cannot live the life of a Christian. Ample provision is made by the death of Christ for every soul. Jesus is our ever-present help in time of need. Only call upon him in faith, and he has promised to hear and answer your petition…..
It is now that we must keep ourselves and our children unspotted from the world."
CCh34
"Those teachers who are as determined as were the priests and rulers to carry their students over the same path in which the world continues to travel will go into still greater darkness. Those who might have been co-laborers with Christ, but have spurned the messengers and their message, will lose their bearings. They will walk in darkness, knowing not at what thy stumble. Such are ready to be deceived by the delusions of the last day. The minds are preoccupied with minor interest, and they lose the blessed opportunity of yoking up with Christ, and being laborers together with God.
The tree of knowledge, so-called, has become an instrument of death. Satan has artfully woven himself, his dogmas, his false theories into the instruction given. From the tree of knowledge he speaks the most pleasing flattery in regard to the higher education. Thousands partake of the fruit of this tree, but to them it means death. Christ says to them: "Ye spend money for that which is not bread. You are using your God-intrusted talent to secure an education which God pronounces foolishness."
Satan is striving to gain every advantage. He desires to secure, not only students, but teachers. He has his plan laid. Disguised as an angel of light, he will walk the earth as a wonder –worker. In beautiful language he will present lofty sentiments. Good words will be spoken by him, and good deeds performed. Christ will be personified, but on one point there will be a marked distinction. Satan will turn the people from the law of God. Notwithstanding this, so well will he counterfeit righteousness, that if it were possible, he would deceive the very elect. Crowned heads, presidents, rulers in high places, will bow to his false theories. Instead of giving place to criticism, division, jealousy, and rivalry, those in our schools should be one in Christ. Only thus can they resist the temptations of the arch deceiver.
Time is passing, and God calls for every watchman to be in his place. He has been pleased to lead us to a crisis greater than any since our Saviour's first advent."
FE 471
There is a disposition with some to shrink from opposition. They fear to go into new places, because of the darkness and the conflicts they expect to meet. This is cowardice. The people must be met where they are. They need stirring appeals, and practical as well as doctrinal discourses. Precept backed up by example will have a powerful influence.
A faithful shepherd will not study his own ease and convenience, but will labor for the interest of the sheep. In this great work he will forget self; in his search for the lost sheep he will not realize he himself is weary, cold, and hungry. He has but one object in view; to save the lost and wandering sheep, at whatever expense it may be to himself. His wages will not influence him in his labor, nor turn him from his duty. He has received his commission from the majesty of heaven, and he expects his reward when the work intrusted to him is done.
GW92 65
Before the consistent lives of Christ's followers, ignorance, superstition, and darkness will pass away, as the sun dispels the gloom of night. In like manner the disciples of Jesus will go into the dark places of the earth, disseminating the light of truth until the pathway of those in darkness shall be illuminated by the light. In what contrast to this is the life of the professed child of God who is the salt without the savor….
These sunless professors are shadows of darkness. Every expression of doubt strengthens unbelief. Every thought and word of hope, courage, light, and love strengthens faith and fortifies the soul to withstand the moral darkness that exits in the world.
True Christians are a savor of life unto life, because Christ abides in their hearts. Reflecting his image, they are children of the light.
OHC 296
"Christ has given "to every man his work". (Mark 13:34). He expects every man to do his work with fidelity. High and low, rich and poor, all have a work to do for the Master. Every one is called to action. But if you do not obey the voice of the Lord, if you do not do his appointed work in firm reliance upon Christ as your sufficiency, if you do not follow His example, "unfaithful, slothful servant" will be registered against your name. Unless the light of truth which has been given to you is communicated to others, unless you let your light shine, it will go out into darkness, and your soul will be left in awful peril. God speaks to everyone who knows the truth, "Let your light so shine before men that they may see your good works and glorify your Father which is in heaven" (Matthew 5:16). Communicate the knowledge of truth to others. This is God's plan to enlighten the world. If you do not stand in your allotted place, if you do not let your light shine, you will become enshrouded in darkness. God calls upon all the sons and daughters of the heavenly family to be fully equipped, so that at any period they can step into the ranks ready for action. The heart made tender and sympathetic by the love of Jesus will find precious pearls designed for the casket of the Lord Jesus."
1SM 266
"I beg of you go entirely away from those who believe the truth; for if you have chosen the world and the friends of the world, go with those of your own choice. Do not poison the minds of others and make yourself Satan's special agent to work the ruin of souls. If you have not fully taken your stand, make haste to resist the devil before it shall be forever too late. Do not take another step into darkness, but take your position as a man of God."
2SM 166
"I was shown that those who are troubled with infidelity and doubts should not go out to labor for others. That which is in the mind must flow out, and they realize not the effect of a hint, or the smallest doubt expressed. Satan makes it a barbed arrow. It acts like slow poison, which, before the victim is made sensible of his danger, has effected the whole system, and undermined a good constitution, and finally ends in death. It is just so with the poison of unbelief, and doubts upon scripture facts. One who has influence hints, or throws a doubt into minds suggesting that which Satan has suggested to them, that one scripture contradicts another, and in a very wise manner, as though they had found out some wonderful mystery, which had been hid from believers and the holy in every age of the world, cast their midnight darkness into other minds. They lose the relish they have had for the truth, and come out infidels. All this is the work of a few words spoken.
This is the work of a cunning Devil. Those who are troubled with doubts, and have difficulties which they cannot solve, should not throw other weak minds into the same perplexity
4bSG 123, 124
"I saw that the remnant were not prepared for what is coming upon the earth. Stupidity, like lethargy, seemed to hang upon the minds of most of those who profess to believe that we are having the last message. My accompanying angel cried out with awful solemnity, "Get Ready! Get Ready! Get Ready! For the fierce anger of the Lord is soon to come. His wrath is to be poured out unmixed with mercy, and ye are not ready. Rend the heart and not the garment. A great work must be done for the remnant. They are, many of them, dwelling on little trials." Said the angel, "Legions of evil angels are around you, and are trying to press in their awful darkness, that you may be ensnared and taken. You suffer your mind to be diverted too readily from the work of preparation, and the all-important truth for these last days. And ye dwell upon little trials, and go into minute particulars of little difficulties to explain them to the satisfaction of this one or that."…..
I saw that God's people were on the enchanted ground, and some have lost nearly all sense of the shortness of time, and the worth of a soul."
ExV54 40
"The Jews did not go into darkness all at once. It was a gradual work, until they could not discern the gift of God in sending his Son. The church at Battle Creek have had superior advantages, and they will be judged by the light and privileges they have had. Their deficiencies, their unbelief, their hardness of heart, and their neglect to cherish the light are not less than those of the favored Jews, who refused the blessings they might have accepted, and crucified the Son of God. The Jew are now an astonishment and a reproach to the world.
The church at Battle Creek are like Capernaum, which Christ represents as being exalted unto heaven by the light and privileges that had been given them. If the light and privileges with which they had been blessed had been given to Sodom and Gomorrah, they might have stood unto this day. If the light and knowledge which the church in Battle Creek have received had been given the nations who sit in darkness, they might have been far in advance of that church.
The Laodicean church really believed, and enjoyed the blessings of the gospel, and thought they were rich and in the favor of God, when the True Witness called them poor, naked, blind, and miserable. This is the case with the church at Battle Creek and with a large share of those who profess to be God's commandment-keeping people. The Lord seeth not as man seeth. His thoughts and ways are not as our ways."
3T 200-201
"Brethren, be careful, very careful. There is a work to be done by the medical missionaries which answers to the description given in verses 48-51. (((Matthew 24.))) The Lord is working to reach the most depraved. Many will know what it means to be drawn to Christ, but will not have moral courage to war against appetite and passion. But the workers must not be discouraged at this; for it is written: "In the latter times many will depart from the faith, giving heed to seducing spirits, and doctrines of devils." 1Timothy 4:1. Is it only those who are rescued from the lowest depths that backslide? There are those in the ministry who have had light and knowledge of the truth, who will not be overcomers. They do not restrict their appetites and passions or deny themselves for Christ's sake. Many poor outcasts, even publicans and sinners, will grasp the hope before them in the gospel and go into the kingdom before the ones who have had great opportunities and great light, but who have walked in darkness. In the last great day many will say: "Lord, Lord, open unto us." But the door will be shut, and their knock will be in vain.
We should feel deeply over these things, for they are true. We should have a high estimate of truth and the value of souls. Time is short and there is a great work to be done. If you feel no interest in the work that is going forward, if you will not encourage medical missionary work in the churches, it will be done without your consent, for it is the work of God, and it must be done. My brethren and sister take your position on the Lord's side and be earnest, active, courageous co-workers with Christ, laboring with him to seek and save the lost."
8T 75
All the preaching in the world will not make men feel deeply the need of the perishing souls around them. Nothing will so arouse in men and women a self-sacrificing zeal as to send forth into new fields to work for those in darkness. Prepare workers to go out into the highways and hedges. Do not call men and women to the great center, encouraging them to leave churches that need their aid. Men must learn to bear responsibilities. Not one in a hundred among us is doing anything beyond engaging in common, worldly enterprises. We are not half awake to the worth of the souls for whom Christ died.
8T 147
"The Scriptures are indeed fulfilled in this, that the blind are leading the blind. For by whom a man is overcome, of the same he is brought in bondage. These deluded soul are under the most abject slavery to the will of demons. They have allied themselves to the powers of darkness and have no strength to go contrary to the will of demons. This is their boasted liberty. By Satan they are overcome, and brought into bondage, and the great liberty promised to those they deceive is helpless slavery to sin and Satan.
We are not to attend their circles, neither are our ministers to engage in controversy with them. They are of that class specified whom we should not invite into our houses, or bid them God speed. We have to compare their teachings with the revealed will of God. We are not to engage in an investigation of spiritualism. God has investigated this for us, and told us definitely that a class would arise in the last days who would deny Christ who has purchased them with His own blood. The Character of spiritualists is so plainly described that we need not be deceived by them. If we obey the divine injunction, we shall have no sympathy with spiritualists, however smooth and fair their words."
ST, April 12, 1883
WE MUST REALIZE THAT WE ARE PLACED UNDER GREAT RESPONSIBILITIES TO GOD AND TO HIS CAUSE BY SUCH EARNEST AND SOLOMN ADMONITIONS AS THE FORGOING. THERE CAN BE NO EXCUSE FOR US TO GO IN A WRONG WAY. THE REASON OF OUR LACK OF SUCCESS AND OUR LACK OF POWER WITH GOD IS POINTED OUT, SO THAT WE ARE NOT LEFT IN THE DARK. OUR SINS AND OUR WRONG WAYS HAVE BEEN FAITHFULLY SET BEFORE US, BUT WE ARE NOT LEFT WITHOUT HOPE; FOR THE REMEDY HAS ALSO BEEN POINTED OUT. NOW IT IS OUR PRIVILAGE TO REPENT OF SIN, AND KNOW THE POWER OF GOD'S SAVING GRACE. THE HOLY SPIRIT WAITS OUR DEMAND AND RECEPTION. WHAT MORE CAN THE LORD DO FOR US THAN THAT WHICH HE HAS ALREADY DONE? BUT OUR DANGER IS THAT WE WILL NOT MAKE APPLICATION OF THESE ADMONITIONS TO OUR INDIVIDUAL SELVES. I WOULD INTREAT YOU IN THE NAME OF THE MASTER TO GIVE HEED TO THIS BLESED INSTRUCTION. GOD GIVE US TRUE GODLY SORROW, SHOULD BE OUR PRAYER. (SEE 2CORINTHIANS 7:10,11)
WE HAVE BEEN PLAINLY TOLD THAT THE STANDARD OF THE MINISTERY MUST BE RAISED, AND ALSO THAT IF WE DO NOT COME WHERE WE WILL MEET THE MIND OF GOD, WE WILL BE SEVERED FROM THE WORK. THESE ARE VERY SOLOMN WORDS TO ME, AND I DESIRE THAT THEY SHALL HAVE THEIR FULL EFFECT ON MY OWN HEART. NOTHING CAN BE MORE CERTAIN THAN THAT IF WE DO NOT TAKE HEED TO THE COUNSEL FROM THE LORD, WE SHALL BE LEFT TO GO INTO STILL GREATER DARKNESS.
SEPT. 1,1892 SpTAO2a 25
I was confirmed in all I had stated in Minneapolis, that reformation must go through the churches. Reforms must be made, for spiritual weakness and blindness were upon the people who had been blessed with great light and precious opportunities and privileges. As reformers they had come out of the denominational churches, but they now act a part similar to that which the churches acted. We hoped that there would not be a necessity of another coming out. While we will endeavor to keep the unity of the Spirit in the bonds of peace, we will not with pen and voice cease to protest against bigotry.
I stated that the course that had been pursued at Minneapolis was cruelty to the Spirit of God; and those who went all through that meeting and left with the same spirit with which they came to the meeting, and were carrying on the same line of work they did at that meeting and since they had come from it, would—unless they were changed in spirit and confessed their mistakes—go into greater deceptions. They would stumble and know not at what they were stumbling. I begged them to stop just where they were. But the position or Elder A and Elder B influenced them to make no change, but stand where they did. No confession was made. The blessed meeting was closed. Many were strengthened, but doubt and darkness enveloped some closer than before….
If my brethren had sensed their own weakness, their own inability, and had never lost sight of this they would have humbled their hearts before God, confessed their errors and come into light and freedom.
Many are ignorant of the deception which palms off falsehood for truth. They entertain the ideas that men may be saved by their own merit. A false religion has come in among us, a legal religion. We will not keep silent. The church must be roused. We will secure halls in the cities and put out handbills and the people shall be enlightened.
11 MR 229-230
"Every one that doeth evil hateth the light, neither cometh to the light, lest his deeds should be reproved" (John 3:20).
The Lord was testing and proving His people who had great light, whether they would walk in it or turn from it under temptation, for but few know what manner of spirit they are of until circumstances shall be of a character to test the spirit which prompts to action. In many the natural heart is a controlling power, and yet they do not suppose that pride and prejudice are entertained as cherished guests, and work in words and actions against light and truth.
Our brethren who have occupied leading positions in the work and cause of God should have been so closely connected with the Source of all light that they would not call light darkness and darkness light. They had the example of those before them who had claimed to believe the truth but who, when mercifully reproved for sin and errors, gave lose reign to their own natural temperament and opposed the work of the Spirit of the Lord. They had seen these go farther and farther into darkness until they became apostates to the truth. And they do not discern that they are in the greatest peril, if, notwithstanding the course and marked example of others, they blindly stumble into the same path of doubt, unbelief, and rejection of light sent from God, because it does not coincide with their ideas. They do not seem to understand that if the Lord sent them reproof it was because He loved them.
A Christian is the highest type of man because he is a Christ-like, and when he departs from the principles that are after Christ's order he is often ignorant that he has done wrong….
12MR 202-203