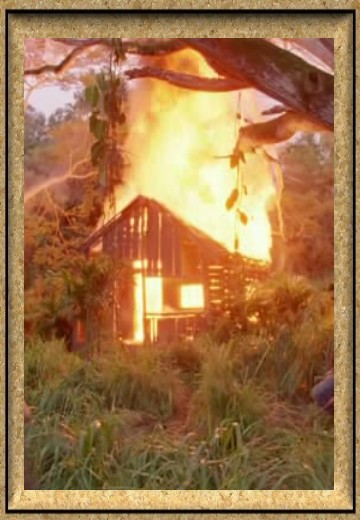 Disciplines And Refines
"Behold, happy is the man whom God correcteth: therefore despise not thou the chastening of the Almighty."
Job 5:17.
"Trials and obstacles are the Lord's chosen methods of discipline and His appointed conditions of success. . . . He sees that some have powers and susceptibilities which, rightly directed, might be used in the advancement of His work. In His providence He brings these persons into different positions and varied circumstances that they may discover in their character the defects which have been concealed from their own knowledge. He gives them opportunity to correct these defects and to fit themselves for His service. . . .
The fact that we are called upon to endure trial shows that the Lord Jesus sees in us something precious which He desires to develop. If He saw in us nothing whereby He might glorify His name, He would not spend time in refining us. He does not cast worthless stones into His furnace. It is valuable ore that He refines. The blacksmith puts the iron and steel into the fire that he may know what manner of metal they are. The Lord allows His chosen ones to be placed in the furnace of affliction to prove what temper they are of and whether they can be fashioned for His work.
It may seem that we are to study our own hearts, and square our own actions by some standard of our own; but this is not the case. This would but work deform instead of reform. The work must begin in the heart, and then the spirit, the words, the expression of the countenance, and the actions of the life, will make manifest that a change has taken place. In knowing Christ through the grace that He has shed forth abundantly, we become changed. . . . In humility we shall correct every fault and defect of character; because Christ is abiding in the heart, we shall be fitted up for the heavenly family above.
The Christian is not to retain his sinful habits and cherish his defects of character. . . . Whatever may be the nature of your defects, the Spirit of the Lord will enable you to discern them, and grace will be given you whereby they may be overcome."
Ever Upward
"As ye have therefore received Christ Jesus the Lord, so walk ye in him."
Colossians 2:6.
"This means that you are to study the life of Christ. You are to study it with as much more earnestness than you study secular lines of knowledge, as eternal interests are more important than temporal, earthly pursuits. If you appreciate the value and sacredness of eternal things, you will bring your sharpest thoughts, your best energies, to the solving of the problem that involves your eternal well-being; for every other interest sinks into nothingness in comparison with that.
You have the Pattern, Christ Jesus; walk in His footsteps.
"Add to your faith virtue" (2 Peter 1:5). There is no promise given to the one who is retrograding. The apostle, in his testimony, is aiming to excite the believers to advancement in grace and holiness. They already profess to be living the truth, they have a knowledge of the precious faith, they have been made partakers of the divine nature. But if they stop here they will lose the grace they have received. . . .
Truth is an active, working principle, molding heart and life so that there is a constant upward movement. . . . In every step of climbing, the will is obtaining a new spring of action. The moral tone is becoming more like the mind and character of Christ. The progressive Christian has grace and love which passes knowledge, for divine insight into the character of Christ takes a deep hold upon his affections. The glory of the Lord revealed above the ladder can only be appreciated by the progressive climber, who is ever attracted higher, to nobler aims which Christ reveals.
The steps upward to heaven must be taken one at a time; every advance step strengthens us for the next. The transforming power of the grace of God upon the human heart is a work which but few comprehend because they are too indolent to make the necessary effort. . . .
It is beyond the power of man to conceive the high and noble attainments that are within his reach if he will combine human effort with the grace of God, who is the Source of all wisdom and power. And there is an eternal weight of glory beyond."
Grace Sufficient
"And he said unto me, My grace is sufficient for thee: for my strength is made perfect in weakness."
2 Corinthians 12:9.
"When thou wast little in thine own sight, wast thou not made the head of the tribes of Israel" (1 Samuel 15:17)? Here Samuel points out the reason for Saul's appointment to the throne of Israel. He had a humble opinion of his own capabilities, and was willing to be instructed. When the divine choice fell upon him, he was deficient in knowledge and experience, and had, with many good qualities, serious defects of character. . . . But if he would remain humble, seeking constantly to be guided by divine wisdom, . . . he would be enabled to discharge the duties of his high position with success and honor. Under the influence of divine grace, every good quality would be gaining strength, while evil traits would as steadily lose their power.
This is the work which the Lord proposes to do for all who consecrate themselves to Him. . . . To all who will receive instruction He will impart grace and wisdom. . . . He will reveal to them their defects of character, and bestow upon all who seek His aid, strength to correct their errors. Whatever may be man's besetting sin, whatever bitter or baleful passions struggle for the mastery, he may conquer, if he will watch and war against them in the name and strength of Israel's Helper. The children of God should cultivate a keen sensitiveness to sin. . . . It is one of Satan's most successful devices, to lead men to the commission of little sins, to blind the mind to the danger of little indulgences, little digressions from the plainly stated requirements of God. Many who would shrink with horror from some great transgression, are led to look upon sin in little matters as of trifling consequence. But these little sins eat out the life of godliness in the soul. The feet which enter upon a path diverging from the right way are tending toward the broad road that ends in death.
Whatever the position in which God has placed us, whatever our responsibilities or our dangers, we should remember that He has pledged Himself to impart needed grace to the earnest seeker. Those who feel insufficient for their position and yet accept it because God bids them, relying upon His power and wisdom, will go on from strength to strength."
AG 240-242