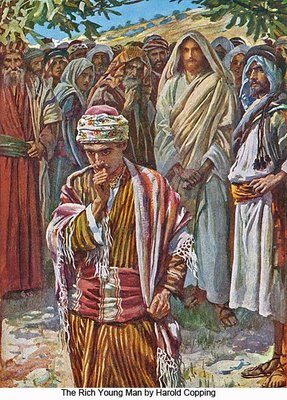 Perfection Now?
"Be ye therefore perfect, even as your Father which is in heaven is perfect."
Matthew 5:48.
When God gave His Son to the world, He made it possible for men and women to be perfect by the use of every capability of their beings to the glory of God. In Christ He gave to them the riches of His grace, and a knowledge of His will. As they would empty themselves of self, and learn to walk in humility, leaning on God for guidance, men would be enabled to fulfill God's high purpose for them.
Perfection of character is based upon that which Christ is to us. If we have constant dependence on the merits of our Saviour, and walk in His footsteps, we shall be like Him, pure and undefiled.
Our Saviour does not require impossibilities of any soul. He expects nothing of His disciples that He is not willing to give them grace and strength to perform. He would not call upon them to be perfect if He had not at His command every perfection of grace to bestow on the ones upon whom He would confer so high and holy a privilege. . . .
Our work is to strive to attain in our sphere of action the perfection that Christ in His life on the earth attained in every phase of character. He is our example. In all things we are to strive to honor God in character. . . . We are to be wholly dependent on the power that He has promised to give us.
Jesus revealed no qualities, and exercised no powers, that men may not have through faith in Him. His perfect humanity is that which all His followers may possess, if they will be in subjection to God as He was.
Our Saviour is a Saviour for the perfection of the whole man. He is not the God of part of the being only. The grace of Christ works to the disciplining of the whole human fabric. He made all. He has redeemed all. He has made the mind, the strength, the body as well as the soul, partaker of the divine nature, and all is His purchased possession. He must be served with the whole mind, heart, soul, and strength. Then the Lord will be glorified in His saints in even the common, temporal things with which they are connected. "Holiness unto the Lord" will be in the inscription placed upon them."
Ever-Widening Influence
"In all things shewing thyself a pattern of good works: in doctrine shewing uncorruptness, gravity, sincerity, sound speech, that cannot be condemned."
Titus 2:7, 8.
The life of Christ was an ever-widening, shoreless influence, an influence that bound Him to God and to the whole human family. Through Christ, God has invested man with an influence that makes it impossible for him to live to himself. Individually we are connected with our fellow men, a part of God's great whole, and we stand under mutual obligations. No man can be independent of his fellow men; for the well-being of each affects others. It is God's purpose that each shall feel himself necessary to others' welfare, and seek to promote their happiness. . . .
By the atmosphere surrounding us, every person with whom we come in contact is consciously or unconsciously affected. . . .
Our words, our acts, our dress, our deportment, even the expression of the countenance, has an influence. . . . If by our example we aid others in the development of good principles, we give them power to do good. In their turn they exert the same influence upon others, and they upon still others. Thus by our unconscious influence thousands may be blessed. . . .
Character is power. The silent witness of a true, unselfish, godly life carries an almost irresistible influence. By revealing in our own life the character of Christ we co-operate with Him in the work of saving souls. It is only by revealing in our life His character that we can co-operate with Him. And the wider the sphere of our influence, the more good we may do. When those who profess to serve God follow Christ's example, practicing the principles of the law in their daily life; when every act bears witness that they love God supremely and their neighbor as themselves, then will the church have power to move the world.
But never should it be forgotten that influence is no less a power of evil. To lose one's own soul is a terrible thing; but to cause the loss of other souls is still more terrible. . . . It is only through the grace of God that we can make a right use of this endowment."
AG 230-231