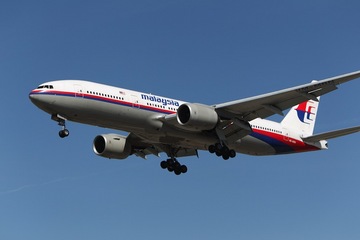 Shabbat
A Jewish traveler named Andrew was saved from tragedy by a last-minute decision to follow his travel agent's suggestion not to fly on Shabbat, which is how he narrowly missed boarding the lost Malaysian Air Flight 370, the Boeing 777 that has disappeared from flight maps.
"More than the Jews have kept the Shabbos (Shabbat), the Shabbos has kept the Jews," wrote blogger DansDeals, who was told the story by the travel agent andon Monday posted a redacted copy of the traveler's fateful email exchange.
On a jam packed trip, leaving from Boston, Andrew was planning to go to Sydney, Hong Kong, Kuala Lumpur, Beijing, Vietnam and Melbourne. The trip was built around a conference in Fangshan, China, on Saturday.
DansDeals, narrating the exchange, wrote, "The travel agent, an Orthodox Jew, proposed the following business class itinerary, slightly altering the Kuala Lumpur-Beijing flight from Saturday to Friday."
Andrew insisted on staying an extra day in Kuala Lumpur, but that would have meant a flight on Saturday.
"The travel agent responded that he would not be able to book travel for him over the Sabbath, but that he was free to book that flight by himself," DansDeals wrote.
Andrew agreed with that and planned to book the flight by himself. But, then he re-considered.
In an email, Andrew wrote to the travel agent: "Greetings from LAX airport. Will board my Delta flight in 55 minutes. I reconsidered, you are right I should be more observant, I'll manage without that day in Kuala. Since I'll have an extra night in PEK, any recommendations for a good Friday night dinner in Beijing?"
The travel agent recommended the Chabad of Beijing for a nice kosher meal and booked him on the original itinerary, flying from Kuala Lumpur to Beijing on Friday early instead of Saturday.
Two days later, Andrew wrote to the agent: "Holy God, You sure heard what happened to MH370. I cannot stop thinking about this. This is a true miracle for the books. You are a true life saver… I cannot think anymore! We'll talk later this week. Don't know how to thank you enough. Now please change my return. I am not stepping on a Malaysia flight in my life."
The travel agent responded, "I am so happy for you! Not I am the life saver. God and Shabbat were your life savers. You owe them something."
DansDeals wrote that Andrew's story reminded him of that of Rose Goldstein, a Jewish girl who emigrated on her own from Poland, and had a job at a shirt factory on New York's Lower East Side, a hundred years ago. She told her bosses an excuse for not working for several Saturdays in a row, but then felt the pressure to go to work on Saturday, or lose the job. She made the decision not to work, spending the Shabbat alone in Tomkins Square Park, happy but at the same time fretting that her absence would surely mean that she would lose her job.
Only when she got home that night, Rose found out that the Triangle Shirtwaist Factory had burned down, and 146 of her immigrant co-workers, out of 190 at the factory, had died because the fire escapes were locked to keep them busy working.
As her story was related on the Chabad.org website that DansDeals linked to, Rose always remembered the words she was left with when she boarded the boat for America: "As her father had said, more than the Jews keep the Sabbath, the Sabbath keeps the Jews."