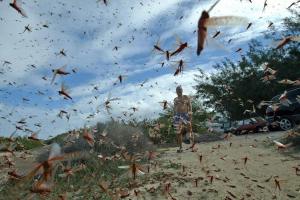 Locusts
As Israel is fighting the swarm of locusts which entered Israel from Egypt this week, (((March 2013))) one ultra-Orthodox Jewish man is happy to be able to collect bags of grasshoppers in order to enjoy them as breakfast and for snacks, according to press reports in Israel.
Farmers in southern Israel are hurting after swarms of locusts caused damage to crops, estimated at millions of shekels, but some there are very happy with the arrival of the locusts.
Mayer Rene, a ultra-Orthodox Jewish resident of Tel Aviv, told an Israeli newspaper that he arrived early morning to Kibbutz Be'er Milka to see the locusts up close and catch some locusts to eat.
"I started to collect them and was able to fill an entire sack. This is a desert grasshopper, which according to Jewish law is kosher," Rene said. "Since I was little I've heard stories that Jews ate locusts in Yemen. They used to collect bags of locusts, put them into the oven and eat them. I ate some years ago and it was delicious," Rene added.
He also said: "A few years ago, I baked it in the oven. I cut its head off, pulled the legs and wings out and I ate the remains."
Meanwhile, the Israeli authorities said that calm winds and pesticide spraying reduced the threat of the locusts spreading to other areas of the country.
Rabbi Yitzchak Yosef, the son of Sephardi leader Rabbi Ovadia Yosef, ruled today that it is forbidden to eat the locusts. "It is the custom not to eat any grasshoppers, even when there are signs that they are kosher.
Some rabbis however, disagree and allowed eating the grasshoppers.
Rare View
March 8, 2013
----------------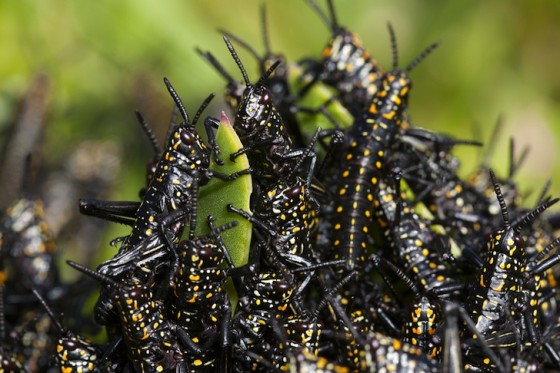 Does this remind you of something that happened in ancient history of Israel?
Perhaps we are remembering that the Lord did not plague the Israelites while they were in Egypt, but the plagues fell on the Egyptians. Now It's on Israel.
The Lord Jesus told us perilous times would come and there would be pestilence and other horrible things happening to warn us that the end is near. Let us take heed to the love of God in telling us these things and be ready for our Saviour to come.
-----------------------------
Moses warned the monarch that if he still remained obstinate, a plague of locusts would be sent, which would cover the face of the earth and eat up every green thing that remained; they would fill the houses, even the palace itself; such a scourge, he said, as "neither thy fathers, nor thy fathers' fathers have seen, since the day that they were upon the earth unto this day."
The counselors of Pharaoh stood aghast. The nation had sustained great loss in the death of their cattle. Many of the people had been killed by the hail. The forests were broken down and the crops destroyed. They were fast losing all that had been gained by the labor of the Hebrews. The whole land was threatened with starvation. Princes and courtiers pressed about the king and angrily demanded, "How long shall this man be a snare unto us? let the men go, that they may serve the Lord their God: knowest thou not yet that Egypt is destroyed?"
Moses and Aaron were again summoned, and the monarch said to them, "Go, serve the Lord your God: but who are they that shall go?"
The answer was, "We will go with our young and with our old, with our sons and with our daughters, with our flocks and with our herds will we go; for we must hold a feast unto the Lord."
The king was filled with rage. "Let the Lord be so with you," he cried, "as I will let you go, and your little ones: look to it; for evil is before you. Not so: go now ye that are men, and serve the Lord; for that ye did desire. And they were driven out from Pharaoh's presence." Pharaoh had endeavored to destroy the Israelites by hard labor, but he now pretended to have a deep interest in their welfare and a tender care for their little ones. His real object was to keep the women and children as surety for the return of the men.
Moses now stretched forth his rod over the land, and an east wind blew, and brought locusts. "Very grievous were they; before them there were no such locusts as they, neither after them shall be such." They filled the sky till the land was darkened, and devoured every green thing remaining. Pharaoh sent for the prophets in haste, and said, "I have sinned against the Lord your God, and against you. Now therefore, forgive, I pray thee, my sin only this once, and entreat the Lord your God, that He may take away from me this death only." They did so, and a strong west wind carried away the locusts toward the Red Sea. Still the king persisted in his stubborn resolution.
The people of Egypt were ready to despair. The scourges that had already fallen upon them seemed almost beyond endurance, and they were filled with fear for the future. The nation had worshiped Pharaoh as a representative of their god, but many were now convinced that he was opposing himself to One who made all the powers of nature the ministers of His will. The Hebrew slaves, so miraculously favored, were becoming confident of deliverance. Their taskmasters dared not oppress them as heretofore. Throughout Egypt there was a secret fear that the enslaved race would rise and avenge their wrongs. Everywhere men were asking with bated breath, What will come next?"
PP 270-271