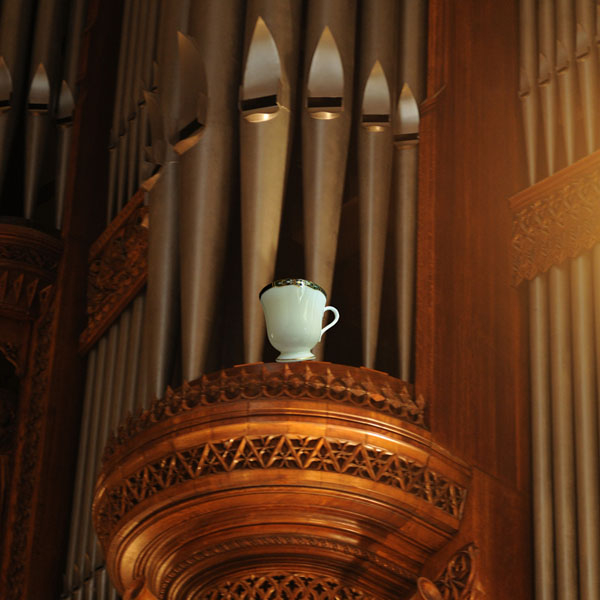 Jest
"But fornication, and all uncleanness, or covetousness, let it not be once named among you, as becometh saints;
Neither filthiness, nor foolish talking, nor jesting, which are not convenient: but rather giving of thanks.
For this ye know, that no whoremonger, nor unclean person, nor covetous man, who is an idolater, hath any inheritance in the kingdom of Christ and of God.
Let no man deceive you with vain words: for because of these things cometh the wrath of God upon the children of disobedience."
Ephesians 5:3-6
"Have we not everything to make us heavenly minded? Have we not everything to bring us right up from this earthliness and sensuality, this cheap and nonsensical talk, this jesting and joking, this false reporting, babbling, and evil surmising? Put it all away! It is a disgrace to the church! It enfeebles and weakens the church.
Let our conversation be holy. As God is holy in His sphere, let us be holy in ours. Let us rejoice in the precious Saviour, who has died to redeem us, and reflect glory back to God. Let us join with heaven in our praises here and unite with the songs of the heavenly angels in the city of our God."
FW 79
"What is the object of the ministry? Is it to mix the comical with the religious? The theater is the place for such exhibitions. If Christ is formed within, if the truth with its sanctifying power is brought into the inner sanctuary of the soul, you will not have jolly men, neither will you have sour, cross, crabbed men to teach the precious lessons of Christ to perishing souls.
Walking Circumspectly.--All the sang-froid, which is so common, the theatrical gestures, all lightness and trifling, all jesting and joking, must be seen by the one who wears Christ's yoke to be "not convenient" --an offense to God and a denial of Christ. It unfits the mind for solid thought and solid labor. It makes men inefficient, superficial, and spiritually diseased. . . .
Let every minister be sedate. As he studies the life of Christ he will see the necessity of walking circumspectly. Yet he may be, and will be, if connected with the Sun of Righteousness, cheerful and happy, showing forth the praises of Him who hath called him out of darkness into His marvelous light. The conversation will be pure, entirely free from all slang phrases." 1888.
Ev 644
"The atmosphere of unbelief is heavy and oppressive. The giddy laugh, the jesting, the joking, sickens the soul that is feeding on Christ. Cheap, foolish talk is painful to Him. With a humble heart read carefully 1 Peter 1:13-18. Those who enjoy talking should see that their words are select and well chosen. Be careful how you speak. Be careful how you represent the religion you have accepted. You may feel it no sin to gossip and talk nonsense, but this grieves your Saviour, and saddens the heavenly angels.
What testimony does Peter bear? "Wherefore laying aside all malice, and all guile, and hypocrisies, and envies, and all evil speakings, as newborn babes, desire the sincere milk of the word, that ye may grow thereby:"
FE 457
"To whom coming, as unto a living stone, disallowed indeed of men, but chosen of God, and precious." These words express much. We are not to be tattlers, or gossipers, or talebearers; we are not to bear false witness. We are forbidden by God to engage in trifling, foolish conversation, in jesting, joking, or speaking any idle words. We must give an account of what we say to God. We will be brought into judgment for our hasty words, that do no good to the speaker or to the hearer. Then let us all speak words that will tend to edification. Remember that you are of value with God. Allow no cheap, foolish talk or wrong principles to compose your Christian experience."
FE 458
"From the light which the Lord has given me, our sisters should pursue a very different course. They should be more reserved, manifest less boldness, and encourage in themselves "shamefacedness and sobriety." Both brethren and sisters indulge in too much jovial talk when in each other's society. Women professing godliness indulge in much jesting, joking, and laughing. This is unbecoming and grieves the Spirit of God. These exhibitions reveal a lack of true Christian refinement. They do not strengthen the soul in God, but bring great darkness; they drive away the pure, refined, heavenly angels and bring those who engage in these wrongs down to a low level."
AH 332
"They encourage pride of dress, pride of appearance, self-gratification, hilarity, and trifling. Satan is entertained as an honored guest, and he takes possession of those who patronize these gatherings.
A view of one such company was presented to me, where were assembled those who profess to believe the truth. One was seated at the instrument of music, and such songs were poured forth as made the watching angels weep. There was mirth, there was coarse laughter, there was abundance of enthusiasm and a kind of inspiration; but the joy was such as Satan only is able to create. This is an enthusiasm and infatuation of which all who love God will be ashamed. It prepares the participants for unholy thought and action. I have reason to think that some who were engaged in that scene heartily repented of the shameful performance.
Many such gatherings have been presented to me. I have seen the gaiety, the display in dress, the personal adornment. All want to be thought brilliant, and give themselves up to hilarity, foolish jesting, cheap, coarse flattery, and uproarious laughter. The eyes sparkle, the cheek is flushed, conscience sleeps. With eating and drinking and merrymaking, they do their best to forget God. The scene of pleasure is their paradise. And Heaven is looking on, seeing and hearing all.
Gatherings for amusement confuse faith and make the motive mixed and uncertain. The Lord accepts no divided heart. He wants the whole man."
AH 514, 515
"One victory gained over yourself will be of great value and encouragement to your children. You may stand on vantage ground, saying, I am God's husbandry; I am God's building. I place myself under His hand to be fashioned after the divine similitude, that I may be a co-worker with God in fashioning the minds and characters of my children so that it will be easier for them to walk in the way of the Lord. . . . Fathers and mothers, when you can control yourselves, you will gain great victories in controlling your children.
The Fruits of Self-control.
Parents, every time you lose self-control and speak and act impatiently, you sin against God. The recording angel writes every impatient, unguarded word spoken before them, carelessly or in jest; every word that is not chaste and elevated, he marks as a spot against your Christian character. Speak kindly to your children. Remember how sensitive you are, how little you can bear to be blamed, and do not lay upon them that which you cannot bear; for they are weaker than you and cannot endure as much. The fruits of self-control, thoughtfulness, and painstaking on your part will be a hundredfold.
Let your pleasant, cheerful words ever be like sunbeams in your family.
If parents desire their children to be right and do right, they must be right themselves in theory and in practice."
CG 217
Temperance Is Not a Matter for Jesting.
"Many make the subject of temperance a matter of jest. They claim that the Lord does not concern Himself with such minor matters as our eating and drinking. But if the Lord had no care for these things, He would not have revealed Himself to the wife of Manoah, giving her definite instructions and twice enjoining upon her to beware lest she disregard them. Is not this sufficient evidence that He does care for these things?"
CG 407
For thirty years the light on health reform has been coming to the people of God, but many have made it a subject of jest. They have continued to use tea, coffee, spices, and flesh meat. Their bodies are full of disease. How can we, I ask, present such ones to the Lord for healing.
CD 400
"His Word Is Sacred.
We should reverence God's Word. For the printed volume we should show respect, never putting it to common uses or handling it carelessly. And never should Scripture be quoted in a jest or paraphrased to point a witty saying. "Every word of God is pure"; "as silver tried in a furnace of earth, purified seven times." (Proverbs 30:5; Psalm 12:6.)
Children should be taught to respect every word that proceeds out of the mouth of God. Parents are ever to magnify the precepts of the law of the Lord before their children, by showing obedience to that law, by themselves living under the control of God. If a sense of the sacredness of the law takes possession of the parents, it will surely transform the character by converting the soul."
CG 538, 539
"Card-playing should be prohibited. The associations and tendencies are dangerous. The prince of the powers of darkness presides in the gaming-room and wherever there is card-playing. Evil angels are familiar guests in these places. There is nothing in such amusements beneficial to soul or body. There is nothing to strengthen the intellect, nothing to store it with valuable ideas for future use. The conversation is upon trivial and degrading subjects. There is heard the unseemly jest, the low, vile talk, which lowers and destroys the true dignity of manhood. These games are the most senseless, useless, unprofitable and dangerous employments the youth can have. Those who engage in card-playing become intensely excited, and soon lose all relish for useful and elevating occupations. Expertness in handling cards will soon lead to a desire to put this knowledge and tact to some use for personal benefit. A small sum is staked, and then a larger, until a thirst for gaming is acquired, which leads to certain ruin. How many has this pernicious amusement led to every sinful practice, to poverty, to prison, to murder, and to the gallows! And yet many parents do not see the terrible gulf of ruin that is yawning for our youth."
CE 34
"From still other rooms came the most disagreeable sallies of low wit and vain talk. Some were making sport of individuals and even imitating the words uttered in meeting; sacred things were made the subject of jest. Young men and young women were severely criticized; courtship and marriage were dwelt upon in a low, disgusting manner. There was scarcely a serious word spoken; the conversation was of a character to debase the mind and taint the morals, and all retired without committing themselves to God."
CH 412
" Our words, our actions, and our dress are daily, living preachers, gathering with Christ, or scattering abroad. This is no trivial matter, to be passed off with a jest. The subject of dress demands serious reflection and much prayer. . . . "
CH 600
"The reason that so grave mistakes are made by the youth is that they do not learn from the experience of those who have lived longer than they have. Students cannot afford to pass off with jest or ridicule the cautions and instruction of parents and teachers. They should cherish every lesson, realizing at the same time their need of deeper teaching than any human being can give. When Christ abides in the heart by faith, His Spirit becomes a power to purify and vivify the soul. Truth in the heart cannot fail of having a correcting influence upon the life. Let both teachers and students hold the truth of God as a treasure of the highest value, which must not be dimmed or tarnished by practices that are out of harmony with its holy character."
CT 223
Avoid Jesting and Joking.
"This spirit of jesting and joking, of lightness and trifling, is a stumbling block to sinners and a worse stumbling block to those who give way to the inclination of the unsanctified heart. The fact that some have allowed this trait to develop and strengthen until jesting is as natural as their breath, does not lessen its evil effects. When anyone can point to one trifling word spoken by our Lord, or to any lightness seen in His character, he may feel that lightness and jesting are excusable in himself. This spirit is unchristian; for to be a Christian is to be Christ-like. Jesus is a perfect pattern, and we must imitate His example. A Christian is the highest type of man, a representative of Christ.
Some who are given to jesting, and to light and trifling remarks, may appear in the sacred desk with becoming dignity. They may be able to pass at once to the contemplation of serious subjects, and present to their hearers the most important, testing truths ever committed to mortals; but perhaps their fellow laborers, whom they have influenced, and who have joined with them in the careless jest, cannot change the current of their thoughts so readily. They feel condemned, their minds are confused; and they are unfitted to enter upon the contemplation of heavenly themes, and preach Christ and Him crucified.
The disposition to say witty things that will create a laugh, when the wants of the cause are under consideration, whether in a committee meeting, a board meeting, or any other meeting for business, is not of Christ. This untimely mirth has a demoralizing tendency. God is not honored when we turn everything to ridicule one day, and the next day are discouraged and almost hopeless, having no light from Christ, and ready to find fault and murmur. He is pleased when His people manifest solidity, strength, and firmness of character, and when they have cheerful, happy, hopeful dispositions. . . .
If the mind is centered upon heavenly things, the conversation will run in the same channel. The heart will overflow at the contemplation of the Christian's hope, the exceeding great and precious promises left on record for our encouragement; and our rejoicing in view of the mercy and goodness of God need not be repressed; it is a joy that no man can take from us." 1884.
Ev 641, 642
"In our mingling in society, in families or in whatever relations of life we are placed, either limited or extended, there are many ways wherein we may acknowledge our Lord and many ways wherein we may deny Him. We may deny Him in our words, by speaking evil of others, by foolish talking, jesting and joking, by idle or unkind words, or by prevaricating, speaking contrary to truth. In our words we may confess that Christ is not in us. In our character we may deny Him by loving our ease, by shunning the duties and burdens of life which someone must bear if we do not, and by loving sinful pleasure. We may also deny Christ by pride of dress and conformity to the world, or by uncourteous behavior. We may deny Him by loving our own opinions and by seeking to maintain and justify self. We may also deny Him in allowing the mind to run in the channel of lovesick sentimentalism and to brood over our supposed hard lot and trials.
No one can truly confess Christ before the world unless the mind and spirit of Christ live in him. It is impossible to communicate that which we have not. The conversation and the deportment should be a real and visible expression of grace and truth within. If the heart is sanctified, submissive, and humble, the fruits will be seen outwardly and will be a most effectual confession of Christ."
CCh 81, 82
"Students, educate yourselves to speak in the language of Canaan. Put away all foolish talking and jesting, all foolish amusements. By faith grasp God's promises and determine that you will be Christians here below while preparing for translation. If you strip yourselves of every hindrance to progress in the Christian life, your minds will be worked by the Holy Spirit, and you will become fishers of men. The salvation of God will go forth from you as a lamp that burneth. If your own hearts are filled with light from above, wherever you may be you will shed light upon others. He will bless you in your service, and you will see of His salvation."
CT 548
"Let the Countenance Be Cheerful.
There is nothing gloomy in the religion of Jesus. While all lightness, trifling, and jesting, which the apostle says are not convenient, are to be studiously avoided, there is a sweet rest and peace in Jesus that will be expressed in the countenance. Christians will not be mournful, depressed, and despairing. They will be sober-minded, yet they will show to the world a cheerfulness which only grace can impart.
Children are attracted by a cheerful, sunny demeanor. Show them kindness and courtesy, and they will manifest the same spirit toward you and toward one another.
Educate the soul to cheerfulness, to thankfulness, and to the expression of gratitude to God for the great love wherewith He hath loved us. . . . Christian cheerfulness is the very beauty of holiness."
CG 146