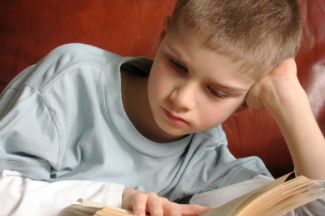 THE TEACHER'S REWARD.
THE work of teaching is no easy one. To be a faithful teacher means to work hard and to endure much. Sacrifices are required of time, convenience, bodily strength, and vital nerve-force; discouragements and disappointments have to be suffered "in constant quick succession," to an extent seldom exceeded in any other occupation. Every real teacher knows this full well, and it often makes him downhearted and despondent.
But there is another side to this, which it would be well to consider oftener. There are rewards of blessing and joy that come to the teacher, as peculiar and unknown to any other profession as are his hardships.
While he shares with all Christians the glad consciousness that "our light affliction, which is but for a moment, worketh for us a far more exceeding and eternal weight of glory," he is also given, in a special manner, foretastes of this final reward which none other can experience. Most of them, it is true, come to him as surprises, unexpectedly. He cannot reckon on them for any given time or place; but none the less surely, inevitably, are they given at some time, in some form, to every true teacher, if he faint not, but continue in well doing.
Here is an instance: Sixteen years ago, one Sabbath morning, a faithful, earnest, prayerful teacher came to the pastor, who was also superintendent of the Sabbath-school, and with tearful eyes asked to be relieved of her class.
"I don't believe," she said, " that the Lord means me to be a teacher, else my work would not all be in vain, as it plainly is. Perhaps I do more harm than good by keeping my class; for yesterday I heard that James Reed, with whom you know we have had so much trouble, but for whom I have worked and prayed now nearly two years,—yesterday I heard that he had run off from home, with three other bad boys older than he. Perhaps if somebody else had taught him, he might now be a good Christian child instead." But the superintendent would not accept her resignation.
He reasoned with her, persuaded her, and finally prevailed upon her to continue her labors.
After sixteen years, there came to this same lady, one summer day, a letter from a well-known mining town in the far West. " Dear Teacher," it began; and then, after recounting many and various strange and terrible adventures, it told how, out on the prairies and down in the mines, the voice of that teacher often made itself heard in the heart of James Reed; how it haunted him, wooed him, nor ever gave him a moment's peace, until, he says, "One night last winter I just could not stand it any longer. I was all alone, except that God was right by me; and I believe I would have died if I had not dropped right down and prayed to him for Jesus' sake to forgive me all my badness, and make me a Christian like you were. The very prayer you had taught us came to my lips; the very promises you used to give us to recite came crowding up to me after that prayer; and a queer quiet and gladness took hold of me, and has not left me since. I belong to the Saviour now; and do you know we have started a Sabbath-school, and we hold prayer meetings. And seven of the men in the mine have already been converted, and we believe that still there is more to follow. I thought I'd just let you know, so that you might help us thank God for it all.
Besides, it's no more than fair you should know, being it was through you that God did it all."
A Sabbath-school and prayer meeting started! Eight souls converted to God, and "more to follow," thousands of miles away from where the seed was first sown by her! Was not that a trite foretaste of the "exceeding weight of glory?" Did not that letter amply reward that teacher for her long years of discouragement, anxiety, and persevering prayer? There is no joy earth can afford that is even to be compared with the bliss that dear lady now enjoys; and yet it is only a foretaste of the bliss that is in store for her hereafter.
One day a little boy was run over by the cars and horribly mangled. He had belonged to the Sabbath-school class of a hard-working teacher. He had never been a bad or troublesome boy; but neither had the teacher ever noticed that his words seemed to have much effect on the child, whose disposition was of a quiet, undemonstrative kind. Now, as the teacher called on the little sufferer, he found him with a peaceful, happy smile upon his face. His first words were,
"Teacher, I'm going, and I want to bid you good-bye."
"Are you not afraid to die?"
"No; why should I be? Jesus has been my Saviour all along since I came to your class. I am ready to go any time now, since he has saved papa and mamma too."
The teacher turned inquiringly to the grief-stricken parents.
"Yes, Mr. A.," spoke the father; "Eddy used to come home and tell us all you taught in class. He would ask us to read over the Scripture passages you read to them, and tell us all about you and your teaching. And though we formerly did not care for religion, we have since given ourselves wholly to Christ. It was all through Eddie, or rather through you, who first won his heart for the Saviour." It was the sad accident that in this case revealed this gladdening fact to the teacher,—a whole family brought to Christ, unexpectedly, quietly, yet gloriously! How many more such cases are there that may never become known in this life! Yet what a reward, what an abundant recompense for every sacrifice, all the toils and trials of a teacher's life, is contained in one such fact! How many of them remain hidden, simply because we have not faith enough to look them up!
Teachers, do not think only of your difficulties,
think of your reward, in this life already great and abundant, and in the life to come,—oh, who shall venture to try to express it!
S. S. World.