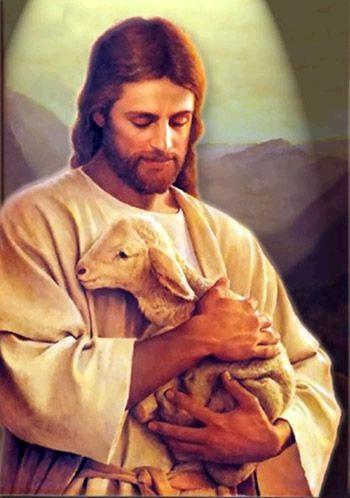 "Worthy Is The Lamb!"
Worthy is the Lamb that was slain to receive power, and riches, and wisdom, and strength, and honour, and glory, and blessing. Revelation 5:12.
We are not worthy of God's love, but Christ, our surety, is worthy, and is abundantly able to save all who shall come unto Him.
Christ delights to take apparently hopeless material, those whom Satan has debased and through whom he has worked, and make them the subjects of His grace. He rejoices to deliver them from suffering and from the wrath that is to fall upon the disobedient.
If the enemy can lead the desponding to take their eyes off from Jesus, and look to themselves, and dwell upon their own unworthiness, instead of dwelling upon the worthiness of Jesus, His love, His merits, and His great mercy, he will get away their shield of faith and gain his object; they will be exposed to his fiery temptations. The weak should therefore look to Jesus, and believe in Him; they then exercise faith.
The Son of God gave all--life and love and suffering--for our redemption. And can it be that we, the unworthy objects of so great love, will withhold our hearts from Him? Every moment of our lives we have been partakers of the blessings of His grace, and for this very reason we cannot fully realize the depths of ignorance and misery from which we have been saved.
Many make a serious mistake in their religious life by keeping the attention fixed upon their feelings and thus judging of their advancement or decline. Feelings are not a safe criterion. We are not to look within for evidence of our acceptance with God. We shall find there nothing but that which will discourage us. Our only hope is in "looking unto Jesus the author and finisher of our faith" (Hebrews 12:2). There is everything in Him to inspire with hope, with faith, and with courage. He is our righteousness, our consolation and rejoicing. . . .
A sense of our weakness and unworthiness should lead us with humility of heart to plead the atoning sacrifice of Christ. As we rely upon His merits we shall find rest and peace and joy. He saves to the uttermost all who come unto God by Him.
Mystery of Mysteries
Without controversy great is the mystery of godliness: God was manifest in the flesh, justified in the Spirit, seen of angels, preached unto the Gentiles, believed on in the world, received up into glory. 1 Timothy 3:16.
What a mystery of mysteries! It is difficult for the reason to grasp the majesty of Christ, the mystery of redemption. The shameful cross has been upraised, the nails have been driven through His hands and feet, and the cruel spear has pierced to His heart, and the redemption price has been paid for the human race. . . .
Redemption is an inexhaustible theme, worthy of our closest contemplation. It passes the comprehension of the deepest thought, the stretch of the most vivid imagination. . . .
Were Jesus with us today, He would say to us as He did to His disciples, "I have yet many things to say unto you, but ye cannot bear them now" (John 16:12). Jesus longed to open before the minds of His disciples deep and living truths, but their earthliness, their clouded, deficient comprehension made it impossible. . . . The want of spiritual growth closes the door to the rich rays of light that shine from Christ. . . .
Those who have been diligently working in the mines of God's Word, and have discovered the precious ore in the rich veins of truth, in the divine mysteries that have been hidden for ages, will exalt the Lord Jesus, the Source of all truth, by revealing in their characters the sanctifying power of what they believe. Jesus and His grace must be enshrined in the inner sanctuary of the soul. Then He will be revealed in words, in prayer, in exhortation, in the presentation of sacred truth.
The mystery of the cross explains all other mysteries. In the light that streams from Calvary, the attributes of God which had filled us with fear and awe appear beautiful and attractive. Mercy, tenderness, and parental love are seen to blend with holiness, justice, and power. While we behold the majesty of His throne, high and lifted up, we see His character in His gracious manifestations, and comprehend, as never before, the significance of that endearing title, "Our Father."
Unsearchable Riches
Unto me, who am less than the least of all saints, is this grace given, that I should preach among the Gentiles the unsearchable riches of Christ. Ephesians 3:8.
It is not because of any restriction on the part of God that the riches of His grace do not flow earthward to men. If all were willing to receive, all would become filled with His Spirit.
It is the privilege of every soul to be a living channel through which God can communicate to the world the treasures of His grace, the unsearchable riches of Christ. There is nothing that Christ desires so much as agents who will represent to the world His Spirit and character. There is nothing that the world needs so much as the manifestation through humanity of the Saviour's love. All heaven is waiting for channels through which can be poured the holy oil to be a joy and blessing to human hearts.
"God, who is rich in mercy, for his great love wherewith he loved us, even when we were dead in sins, hath quickened us together with Christ, . . . and hath raised us up together, and made us sit together in heavenly places in Christ Jesus: that in ages to come He might show the exceeding riches of his grace in his kindness toward us through Christ Jesus" (Ephesians 2:4-7).
Such are the words in which "Paul the aged," "a prisoner of Jesus Christ," writing from his prison house at Rome, endeavored to set before his brethren that which he found language inadequate to express in its fulness--"the unsearchable riches of Christ," the treasure of grace freely offered to the fallen sons of men.
As your soul yearns after God, you will find more and still more of the unsearchable riches of His grace. As you contemplate these riches, you will come into possession of them, and will reveal the merits of the Saviour's sacrifice, the protection of His righteousness, the fulness of His wisdom, and His power to present you before the Father "without spot, and blameless" (2 Peter 3:14).
AG 185-187