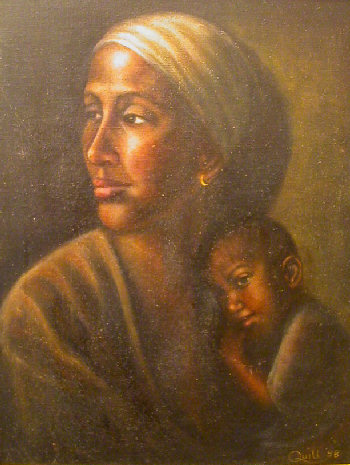 Return Of Slavery
"Slavery will again be revived in the Southern States; for the spirit of slavery still lives."
2MR 299.
"Again: the constitution professing to be based upon that declaration, pledges that all men shall be protected in worshiping God according to the dictates of their own consciences. Well, I as a Christian profess to have my conscience in accordance with the Bible, which says, "Thou shalt not deliver unto his master, the servant which is escaped from his master unto thee." Deut. xxiii, 15. Now that is my conscience on that point. Will they regard my conscience as sacred? Let us see. We will say that, by some means, a poor slave at the south has heard the clause in the declaration, that "all men are created free." A new idea springs up in his mind, that he ought to be free; but where can he go to be free? is the question. The world is naught to him, his knowledge is confined to his master's plantation. He is surrounded with slave-dealers who would not let him enjoy freedom. Just then the proclamation of Queen Victoria (as represented in the fugitive slave song) salutes his ear.
"I heard that Queen Victoria said, if we would all forsake Our native land of slavery, and come across the lake,
That she was standing on the shore, with arms extended wide,
To give us all a peaceful home, beyond the rolling tide."
If he was only there, he might enjoy his liberty. He views the dangers attendant on the way, but concludes that liberty is sweeter than life. He starts-for what? A country in which he can enjoy freedom. Yea, and he starts for that very lion power, from whose grasp, less than one century since our own nation extricated itself because of oppression. He plods his way, faint and fatigued, by day and night, until he reaches the northern boundary of the United States. He is about to take passage for the dominion of the Queen. He turns to give one long, last look at the boasted land of freedom, but whose soil he has found to be cursed with the damning sin of slavery. There perhaps, he has left a companion or children-now he is laying plans by which he may perform the generous act of purchasing their freedom, and again enjoy their friendly society. While he is taking his last view of that weary road over which he has passed, a tear trickles down his cheek, and he bids slavery good bye forever. He turns to take his flight. Just then a ruthless hand taps him on the shoulder, and a gruff voice says, You are mine. Half bewildered he beholds that long-hated and much dreaded man, his master. Slavery with all its galling pains again stares him in the face. Again it occurs to him, liberty is sweeter than life.
Every energy of his being is stirred. He gives a leap, and is beyond the reach of that cruel master. Perhaps you, Christian, are standing by, and behold this scene, desirous that the fugitive should escape. You now hear the call for, Help! Help! What? Help catch that slave! You are almost benumbed at the thought of aiding that cruel master. You see the slave step aboard of a steamer which quickly leaves the shore, and bears the happy fugitive away from the land of slavery. You have seen the slave get his freedom-all is over. Is it? The next day you find yourself pursued, summoned to appear before the bar, and answer for your transgression. What have you done? Stood still, and seen a slave get just what the Declaration of Independence of these United States says all men are entitled to-"Liberty." And now for the offence you must pay $1000 fine. You plead, The constitution pledges me protection in matters of conscience; but it is of no avail. The fine is made out against you, you cannot pay it, and into prison you must go, and there lie until the claims of the law are satisfied. This, reader, is not a fancy sketch, but a real echo of the dragon-voice. But, says the reader, this is only the work of Republicans; Protestants do not, and would not, act thus. If Protestants are one horn of this beast, then they will act as marked out in the Word; speak like a dragon. The great red dragon, [Rev. xii,] according to its profession, had no more right to condemn an innocent man, than these United States; yet when Christ was tried, Pilate said, "I have found no cause of death in him; [Luke xxiii, 22;] and with the next breath says, "Crucify him." The Protestant says, The Bible is the only standard of faith for Protestants; and yet hundreds have been expelled from their fellowship for no other cause, than believing, and talking to others the Bible doctrine of the near, personal return of the Saviour. Protestants and Republicans, both unitedly and separately, speak as a dragon. We inquire, Who are Republicans? To a greater or less extent they are Protestants. Protestants aid in making and carrying out laws, that hold men in slavery. Protestants also are slave-holders. If the church of the North does not hold slaves, she fellowships those of the South, who do. Her ministry argue, that there is no moral wrong in holding them. For an illustration of the acts of both Protestants and Republicans, we make the two following quotations from the New York Tribune.
"the shame of virginia.-Virginia has proved herself unworthy of being the birth-place of Washington, as is shown by recent legal decision of that State, for which all its citizens are responsible. Mrs. Douglass, a lady of Norfolk, was some time since accused, as our readers may remember, of the crime of teaching "little niggers" to read. This case has been finally adjudged by the court at Norfolk. The teacher was found guilty and sentenced to one month's imprisonment, which sentence was immediately carried into effect, and the lady now lies in jail expiating her crime."
The Tribune of Feb. 11th, gives an account of the burning of a slave to death, on the banks of the Mississippi, at what is called Union Point. From the account, we extract the following.
"A slave burned to death.-A mob was collected together and a Lynch Court was held to determine what was best to be done with a negro who had the impudence to raise his hand against a white man. The Lynch Court decided that he should be burned at the stake."
"Nearly four thousands slaves were collected from the plantations in the neighborhood to witness this scene. Numerous speeches were made by the magistrates and ministers of religion, to the large concourse of slaves, warning them, and telling them that the same fate awaited them if they should prove rebellious to their owners."
Here is a specimen of the scenes that are transpiring in the boasted land of liberty-"All men created free and equal." Yet while one person is occupying a high station in society, another for opening a child's mind to the channel of thought, that they too may aspire to the same position, must be hurled to the bars and grates. And as we see in the second quotation, "Ministers of the gospel," (Protestants,) warning slaves of a punishment more becoming a cannibal savage, than the citizens of a Christian land. How must such things appear in the sight of a Holy God.
1854 JNL, THB 14-18
-------------------------------------------------------------------
He was treated with every indignity by those whom He came to save from eternal ruin, and the missionary to the Southern field will need to arm himself with the mind that was in Christ Jesus. The record says: "He came unto his own, and his own received him not. But as many as received him, to them gave he power to become the sons of God, even to them that believe on his name."
The Southern race has been neglected. Men have passed by on the other side, as the priest and the Levite passed by the wounded, robbed, bruised, and beaten one. But a certain Samaritan, as he journeyed that way, not only saw him, but he had compassion on him, and went to him, and bound up his wounds, set him on his own beast, brought him to an inn, and took care of him. How many have left the colored race to perish by the wayside? Since the slaves gained their freedom at terrible loss of life both to the North and to the South, they have been greatly neglected by those who professed to know God, and as a result thousands of them have failed to gain spiritual freedom. But shall this indifference continue? Shall not decided efforts be made to save them? Sin has degraded and corrupted the human family, but Christ did not leave men to perish in their degradation. He who was one with the Father came to our world to bridge the gulf that sin had made, which separated man from God because of transgression. Christ, the brightness of His Father's glory, beheld humanity in its wretchedness and sinfulness, beheld souls tainted with corruption, depraved and deformed. He knew that the fallen race tended more to evil than to good, and practiced the most hateful vices. The heavenly hosts looked upon the world as undeserving of the sympathy and love of God. Angels marveled that Christ should undertake to save man in his lost, and as it seemed to them, hopeless condition. They marveled that God could tolerate a race so foul with sin as to be a blot upon His creation. They could see no room for love, but Christ saw that souls must perish unless an arm strong to deliver was reached forth to save.
Satan is the destroyer, but Christ is the restorer.
SW 25-26
------------------------------------------------------
"By 1843, several hundred slaves a year were successfully escaping to the North, making slavery an unstable institution in the border states.
The earlier Fugitive slave Act of 1793 was a Fedral law which was written with the intention of enforcing Article 4, section 2 of the United States Constitution, which required the return of runaway slaves. It sought to force the authorities in free states to return fugitive slaves to their masters.
Many Northern states sought to circumvent the Fugitive Slave Act. Some jurisdictions passed "personal liberty laws",mandating a jury trial before alleged fugitive slaves could be moved and others forbade the use of local jails or the assistance of state officials in the arrest or return of alleged fugitive slaves. In some cases, juries refused to convict individuals who had been indicted under the Federal law.
The Missouri Supreme Court routinely held that voluntary transportation of slaves into free states, with the intent of residing there permanently or definitely, automatically made them free. The Fugitive slave Law dealt with slaves who went into free states without their master's consent. The U. S. Supreme Court ruled, in Prigg v. Pennsylvania(1842), that states did not have to offer aid in the hunting or recapture of slaves, greatly weakening the law of 1793.
After 1840, the black population of rural Cass County,Michigan, grew rapidly as families were attracted by white defiance of discriminatory laws, by numerous highly supportive Quakers, and by low-priced land. Free and runaway blacks found Cass County a haven. Their good fortune attracted the attention of southern slaveholders. In 1847 and 1849, planters from Bourbon and Boone Counties in northern Kentucky led raids into Cass County to recapture runaway slaves. The raids failed of their objective but strengthened Southern demands for passage of the Fugitive Slave Act in 1850."
"In response to the weakening of the original fugitive slave act, the Fugitive Slave Law of 1850 made any Fedral Marshal or other official who did not arrest an alleged runaway slave liable to a fine of $1,000. Law-enforcement officials everywhere now had a duty to arrest anyone suspected of being a runaway slave on no more evidence than a claiment's sworn testimony of ownership. The suspected slave could not ask for a jury trial or testify on his or her own behalf. In addition, any person aiding a runaway slave by providing food or shelter was subject to six months' imprisonment and a $1,000 fine. Officers who captured a fugitive slave were entitled to a bonus or promotion for their work. Slave owners only needed to supply an affidavit to a Federal marshal to capture an escaped slave. Since any suspected slave was not eligible for a trial this led to many free blacks being conscripted into slavery as they had no rights in court and could not defend themselves against accusations."
Wiki