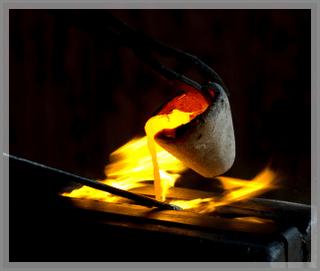 refine silver
Why Trials?
"And he shall sit as a refiner and purifier of silver: and he shall purify the sons of Levi, and purge them as gold and silver, that they may offer unto the Lord an offering in righteousness."
Malachi 3:3.
"Here is the process, the refining, purifying process, to be carried on by the Lord of hosts. The work is most trying to the soul, but it is only through this process that the rubbish and defiling impurities can be removed. Our trials are all necessary to bring us close to our heavenly Father, in obedience to His will, that we may offer unto the Lord an offering in righteousness. God has given each of us capabilities, talents to improve. We need a new and living experience in the divine life, in order to do the will of God. No amount of past experience will suffice for the present, or will strengthen us to overcome the difficulties in our path. We must have new grace and fresh strength daily in order to be victorious. . . .
Abraham, Moses, Elijah, Daniel, and many others, were all sorely tried, but not in the same way. Everyone has his individual tests and trials in the drama of life, but the very same trial seldom comes twice. Each has his own experience, peculiar in its character and circumstances, to accomplish a certain work. God has a work, a purpose, in the life of each and all of us. Every act, however small, has its place. . . .
Would that all might feel that every step they take may have a lasting and controlling influence upon their own lives and the characters of others. Oh, how much need, then, of communion with God! What need of divine grace to direct every step, and show us how to perfect Christian characters!
Christians will have new scenes and new trials to pass through, where their past experience cannot be a sufficient guide. We need to learn of the divine Teacher as much now as at any period of our lives, and even more. And the more experience we gain, the nearer we draw toward the pure light of heaven, the more shall we discern in ourselves that needs reforming. . . . The path of the just is a progressive one, from strength to strength, from grace to grace, and from glory to glory. The divine illumination will increase more and more, corresponding with our onward movements, qualifying us to meet the responsibilities and emergencies before us.
"Fulness of God"
"And to know the love of Christ, which passeth knowledge, that ye might be filled with all the fulness of God."
Ephesians 3:19.
"God calls upon those who know His will to be doers of His word. Weakness, halfheartedness, and indecision provoke the assaults of Satan; and those who permit these traits to grow will be borne helplessly down by the surging waves of temptation. . . .
Every means of grace should be diligently improved that the love of God may abound in the soul more and more, "that ye may approve things that are excellent; that ye may be sincere and without offense till the day of Christ; being filled with the fruits of righteousness" (Philippians 1:10, 11). Your Christian life must take on vigorous and stalwart forms. You can attain to the high standard set before you in the Scriptures, and you must if you would be children of God. You cannot stand still; you must either advance or retrograde. You must have spiritual knowledge, that you "may be able to comprehend with all saints what is the breadth, and length, and depth, and height; and to know the love of Christ," that you may "be filled with all the fulness of God." . .
Will you have a stinted Christian growth, or will you make healthy progress in the divine life? Where there is spiritual health there is growth. The child of God grows up to the full stature of a man or woman in Christ. There is no limit to his improvement. . . .
We have great victories to gain, and a heaven to lose if we do not gain them. The carnal heart must be crucified; for its tendency is to moral corruption, and the end thereof is death. Nothing but the life-giving influences of the gospel can help the soul. Pray that the mighty energies of the Holy Spirit, with all their quickening, recuperative, and transforming power, may fall like an electric shock on the palsy-stricken soul, causing every nerve to thrill with new life, restoring the whole man from his dead, earthly, sensual state to spiritual soundness. You will thus become partakers of the divine nature, having escaped the corruption that is in the world through lust; and in your souls will be reflected the image of Him by whose stripes you are healed.
Wages or Gift?
The wages of sin is death; but the gift of God is eternal life through Jesus Christ our Lord."
Romans 6:23.
" Man was originally endowed with noble powers and a well-balanced mind. He was perfect in his being, and in harmony with God. His thoughts were pure, his aims holy. But through disobedience, his powers were perverted, and selfishness took the place of love. His nature became so weakened through transgression that it was impossible for him, in his own strength, to resist the power of evil. He was made captive by Satan, and would have remained so forever had not God specially interposed. It was the tempter's purpose to thwart the divine plan in man's creation, and fill the earth with woe and desolation.
By nature we are alienated from God. The Holy Spirit describes our condition in such words as these: "Dead in trespasses and sins;" "the whole head is sick, and the whole heart faint;" "no soundness in it" (Ephesians 2:1; Isaiah 1:5, 6). We are held fast in the snare of Satan, "taken captive by him at his will" (2 Timothy 2:26). God desires to heal us, to set us free. But since this requires an entire transformation, a renewing of our whole nature, we must yield ourselves wholly to Him.
The warfare against self is the greatest battle that was ever fought. The yielding of self, surrendering all to the will of God, requires a struggle; but the soul must submit to God before it can be renewed in holiness. . . .
God does not force the will of His creatures. He cannot accept an homage that is not willingly and intelligently given. A mere forced submission would prevent all real development of mind or character; it would make man a mere automaton. Such is not the purpose of the Creator. He desires that man, the crowning work of His creative power, shall reach the highest possible development. He sets before us the height of blessing to which He desires to bring us through His grace. He invites us to give ourselves to Him, that He may work His will in us. It remains for us to choose whether we will be set free from the bondage of sin, to share the glorious liberty of the sons of God.
Counting the Cost
"But what things were gain to me, those I counted loss for Christ."
Philippians 3:7.
"Moses renounced a prospective kingdom, Paul the advantages of wealth and honor among his people, for a life of burden bearing in God's service. To many the life of these men appears one of renunciation and sacrifice. Was it really so? . . .
Moses was offered the palace of the Pharaohs and the monarch's throne; but the sinful pleasures that make men forget God were in those lordly courts, and he chose instead the "durable riches and righteousness" (Proverbs 8:18). Instead of linking himself with the greatness of Egypt, he chose to bind up his life with God's purpose. Instead of giving laws to Egypt, he by divine direction enacted laws for the world. He became God's instrument in giving to men those principles that are the safeguard alike of the home and of society, that are the cornerstone of the prosperity of nations--principles recognized today by the world's greatest men as the foundation of all that is best in human governments.
The greatness of Egypt is in the dust. Its power and civilization have passed away. But the work of Moses can never perish. The great principles of righteousness which he lived to establish are eternal. . . .
With Christ in the wilderness wandering, with Christ on the mount of transfiguration, with Christ in the heavenly courts --his was a life on earth blessing and blessed, and in heaven honored.
Paul also in his manifold labors was upheld by the sustaining power of His presence. "I can do all things," he said, "through Christ which strengtheneth me" (Philippians 4:13). . . . Who can measure the results to the world of Paul's lifework? Of all those beneficent influences that alleviate suffering, that comfort sorrow, that restrain evil, that uplift life from the selfish and the sensual, and glorify it with the hope of immortality, how much is due to the labors of Paul and his fellow workers, as with the gospel of the Son of God they made their unnoticed journey from Asia to the shores of Europe?
What is it worth to any life to have been God's instrument in setting in motion such influences of blessing? What will it be worth in eternity to witness the results of such a lifework?"
AG 312-314