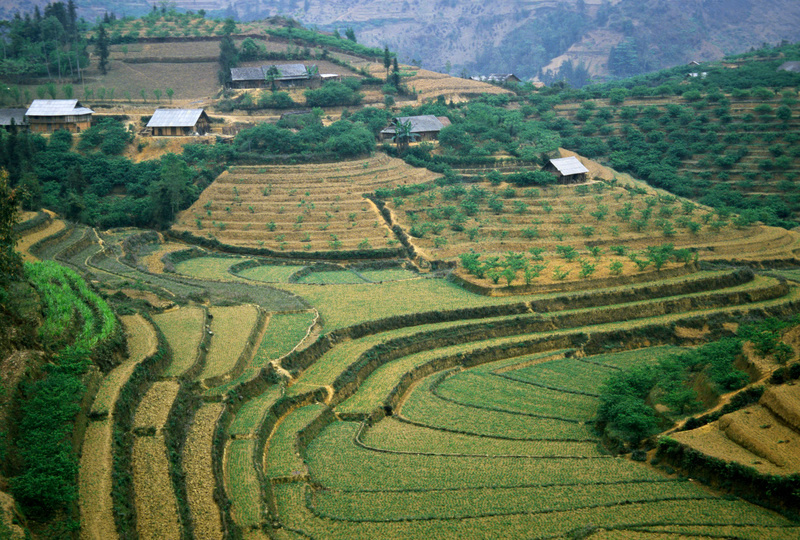 The Power Of The Holy Spirit
In Vietnam
A Village Awakened
(Names with stars have been changed*)
Based on lay pastor Hanh's experience, as told to Pastor Isah Young.
"Call unto me, and I will answer thee, and show thee great and mighty things, which thou knowest not."
Jeremiah 33:3
Hanh* and his home church took Pastor Isah Young's challenge seriously. He told them to fast and pray for unreached areas in Vietnam. They began fasting and praying for a village 150 miles away—a village where lived not a single Christian. Because this was the hometown of one of the couples that attended the home church, they prayed specifically for their relatives living there.
Yen* suffered from terminal stomach cancer. She came to the city from this village seeking medical care. Her nephew and his wife invited yen to Hanh's home church and there she learned of Jesus Christ and was given a Bible. She readily accepted Him as her Saviour. Because she was in the last stages of cancer the doctors offered her no help. Her only help was in the Master Healer, her newfound love. The cancer made it impossible for her to keep down food, but her insatiable appetite for God's Word sustained her. After two weeks in the city she returned home to her family.
About a month later, Yen's sister-in-law called Hanh with the sad news that yen was about to die. The home church group immediately gathered to pray for her as they had done many times when she was with them and after she had left, but this time they prayed intensly for two hours, claiming Psalms 30 for her life. They reasoned with God, asking Him, "If you let this lady die, who will praise Your name in this village?" At the close of their prayer they felt peace and assurance that God would heal her.
The next day after another prayer session Pastor Hanh called to see if Yen's health had improved. He discovered she was in an unconscious state and was barely holding on to life. Talking to Yen's sister-in-law, he earnestly asked, "Do you love Yen? If you do, listen to me! We have been praying that God will heal Yen. He is the only one who can help now. Please go and get Yen's Book called the Bible, open it to Psalm 30, kneel down beside Yen and read the words, putting Yen's name in the texts."
A few days later, when Hanh, Yen's nephew, and their wives came to visit, they were met with shouts of joy from a fully restored Yen, her sister-in-law and a host of non Christians, all praising the Lord. "Not long after you called, Yen stopped breathing," the sister-in-law explained, "after I cleaned her and was about ready to dress her body for burial, I remembered what you said. I had no hope left other than your plan and it worked!! After I did what you said, praying and putting Yen's name in the verses of Psalm 30, the blankets we wrapped Yen in started to move. I stared in amazement and fear as she started vigorously kicking the blankets off. She sat up. She asked for food and I quickly gave her some. Many came to console the family, but found an empty casket with yen alive and completely healed!"
Hanh and his group, along with Yen, seized this opportunity to witness and spend time telling the villagers more about the loving Author of life and His powerful Words in the Bible. Over 50 people in this villa have accepted Jesus gift of eternal life and the news has traveled to several villages in the area.
Jeanette Yeboah Amoako