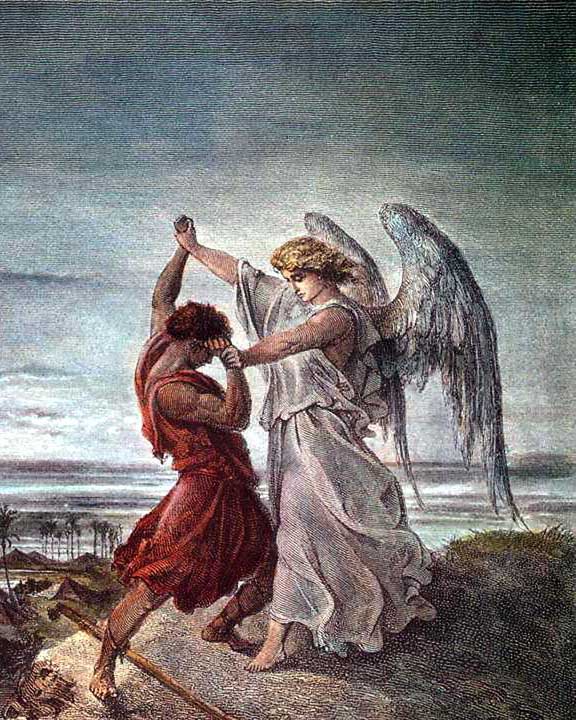 Invincible
"The blessing of the Lord, it maketh rich, and he addeth no sorrow with it."
Proverbs 10:22.
When in his distress, Jacob laid hold of the Angel, and made supplication with tears, the heavenly Messenger, in order to try his faith, also reminded him of his sin, and endeavored to escape from him. But Jacob would not be turned away. He had learned that God is merciful, and he cast himself upon His mercy. He pointed back to his repentance for his sin, and pleaded for deliverance. As he reviewed his life, he was driven almost to despair; but he held fast the Angel, and with earnest, agonizing cries urged his petition until he prevailed.
Such will be the experience of God's people in their final struggle with the powers of evil. God will test their faith, their perseverance, their confidence in His power to deliver them. Satan will endeavor to terrify them with the thought that their cases are hopeless. . . . They will have a deep sense of their shortcomings, and as they review their lives, their hopes will sink. But remembering the greatness of God's mercy, and their own sincere repentance, they will plead His promises made through Christ to helpless, repenting sinners. Their faith will not fail because their prayers are not immediately answered. They will lay hold of the strength of God, as Jacob laid hold of the Angel, and the language of their souls will be, "I will not let thee go, except thou bless me" (Genesis 32:26). . . .
Jacob's history is an assurance that God will not cast off those who have been betrayed into sin, but who have returned unto Him with true repentance. It was by self-surrender and confiding faith that Jacob gained what he had failed to gain by conflict in his own strength. God thus taught His servant that divine power and grace alone could give him the blessing he craved. Thus it will be with those who live in the last days. As dangers surround them, and despair seizes upon the soul, they must depend solely upon the merits of the atonement. We can do nothing of ourselves. In all our helpless unworthiness we must trust in the merits of the crucified and risen Saviour. None will ever perish while they do this.
"More than Conquerors"
" Who shall separate us from the love of Christ? shall tribulation, or distress, or persecution, or famine, or nakedness, or peril, or sword? . . . Nay, in all these things we are more than conquerors through him that loved us."
Romans 8:35-37.
God's servants receive no honor or recognition from the world. Stephen was stoned because he preached Christ and Him crucified. Paul was imprisoned, beaten, stoned, and finally put to death, because he was a faithful messenger of God to the Gentiles. The apostle John was banished to the Isle of Patmos, "for the word of God, and for the testimony of Jesus Christ" (Revelation 1:9.). These examples of human steadfastness in the might of divine power are a witness to the world of the faithfulness of God's promises, of His abiding presence and sustaining grace.
Jesus does not present to His followers the hope of attaining earthly glory and riches, of living a life free from trial. Instead He calls upon them to follow Him in the path of self-denial and reproach. He who came to redeem the world was opposed by the united forces of evil. . . .
In all ages Satan has persecuted the people of God. He has tortured them and put them to death, but in dying they became conquerors. They bore witness to the power of One mightier than Satan. Wicked men may torture and kill the body, but they cannot touch the life that is hid with Christ in God. They can incarcerate men and women in prison walls, but they cannot bind the spirit.
Through trial and persecution the glory--the character--of God is revealed in His chosen ones. The believers in Christ, hated and persecuted by the world, are educated and disciplined in the school of Christ. On earth they walk in narrow paths; they are purified in the furnace of affliction. They follow Christ through sore conflicts; they endure self-denial, and experience bitter disappointments; but thus they learn the guilt and woe of sin, and they look upon it with abhorrence. Being partakers of Christ's sufferings, they can look beyond the gloom to the glory, saying, "I reckon that the sufferings of this present time are not worthy to be compared with the glory which shall be revealed in us"
(Romans 8:18).
AG 279-280