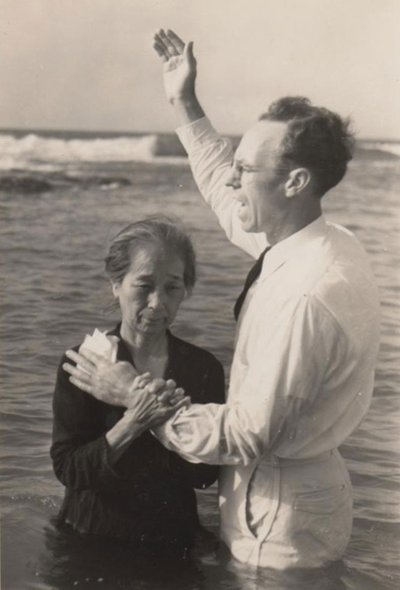 Missionary built first Adventist church, hospital on island ravaged by WWII
Ejler Jensen was the first Seventh-day Adventist missionary to the Japanese island of Okinawa, where he planted a vibrant church community, including a school and hospital, in the 1950s.

Jensen, who died at age 102 on August 27, set about building an Adventist church big enough for 200 people on Okinawa when there was 600,000 people and not one single Adventist on the island, which was devastated after World War II. Building materials consisted of war remnants and military supplies. The church opened in 1951.

He later opened a school in the southern part of the island, and then a church attached to the school. As church membership increased, Jensen began designing a 15-bed hospital that is regarded today as the leading private hospital on the island.

Thirty-nine patients showed up on opening day of the clinic, which was located up a steep hillside. "Within a year, the lone doctor was seeing over 200 patients a day," his daughter Linda said. The facility, the Adobenchisuto (Adventist) Medical Center, moved to a new location with more than 100 beds a few years ago.

"Adventist members in Okinawa and the Japan Union Conference will never forget Elder Jensen, who built the foundation of the Okinawa Mission," said Masumi Shimada, president of the denomination's Japan Union Conference. "We appreciate his efforts and love for Okinawa and remember his service to the Lord."

Ejler E. Jensen was born in 1912 to Danish immigrants in Alberta, Canada. The Lutheran family converted to the Adventist Church through an Adventist bookseller.

As a young child, Jensen became fascinated with mission stories told at campmeetings at Canadian Junior College (now Canadian Union University).

The family moved to Modesto, California, United States, in 1918 to grow table grapes, but a combination of drought, gophers, and a weak economy devastated them. Financially ruined, they moved back to Canada.

Attempts to farm wheat proved successful until the Dust Bowl and Great Depression hit in 1929 and 1930. The howling winds blew crops and soil away. The family lost everything and had to walk away, destitute and in debt.

At age 20, Jensen became a literature evangelist to raise money for college. He was given an old bicycle with wooden wheels and a territory of hundreds of miles. He later described this time as the most lonely of his life, going from house to house in the country, seeing strange faces every day and asking for a bed to sleep on.

Jensen attended Canadian Junior College from 1936 to 1939 and then transferred to California-based Pacific Union College, where he graduated in 1942 with a double major in Bible and history. At PUC, he met Iona Clark, and the couple married in 1942.

After serving as a pastor for two years in the U.S. states of Nevada and Utah, Jensen accepted a call in 1944 to work as head of the Alaska Mission, a territory that would later become a U.S. state.

At times it took days to reach remote parts of the territory, with Jensen catching rides on fishing boats, Coast Guard lifeboats and with bush pilots delivering supplies and mail with amphibious aircraft.

One night, while flying with a bush pilot, a storm forced a landing on a small, isolated inlet. Ice developed on the wings and propeller and the plane began to sink.

Jensen and the pilot jumped out and waded to shore. Disoriented, wet, and freezing, Jensen began to pray fervently. Then, out of the blowing snow, an old Eskimo appeared, dressed in white, and waved at the lost pair to follow him. He led them through the storm to a small settlement, where villagers gave them shelter until the storm passed.

When Jensen asked the villagers for the rescuer's name in order to thank him, the villagers replied that no such person lived in the area.

"Dad was certain that his guardian angel had appeared to save him that day," Linda said.

While in Alaska, Jensen accepted an invitation to serve as a missionary in Indonesia. Seventeen days into the voyage across the Pacific Ocean aboard a freighter he received a cable asking him to go to Japan instead.

The couple enrolled in a language school and spent the next year and a half becoming fluent in Japanese. In 1949, local Adventist leaders decided to open mission work on Okinawa, and the Jensens agreed to move there.

In 1960, after a decade on Okinawa, Jensen was appointed as the head of the Tokyo Sanitarium and Hospital (now Tokyo Adventist Hospital) and the pastor of a church on the same property. Six years later he moved to Malaysia, where he worked as business manager of the Penang Sanitarium (now Penang Adventist Hospital) as well as the pastor of the English-speaking church with a membership of 200.

With both daughters in college, he and his wife decided to return to the U.S. in 1969.

He worked for four years as an assistant credit manager at St. Helena Hospital in Deer Park, California, and then pastored a church in Miranda, California.

The couple retired in 1975 in California's Napa Valley. Iona preceded him in death in 2005.

Today, Okinawa has 16 Adventist churches with a membership of nearly 2,100, according to the Adventist Yearbook.
Andrew McChesney